Outdoor equipment co-op accused of using weaknesses in province's labour code to fight employees' union drive.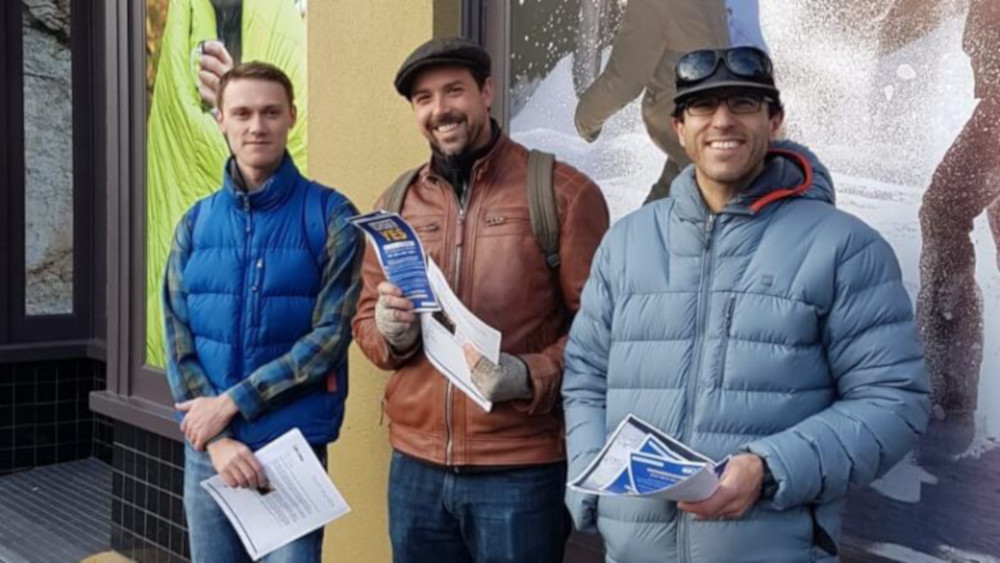 Alexandre Charron, right, stands with other staff outside the Victoria MEC store. Photo submitted by Alexandre Charron.
Despite presenting itself as a progressive organization, Mountain Equipment Co-op has fought hard to prevent staff in its Victoria store from joining a union, says an employee involved in the organizing drive.
Alexandre Charron, who has been a frontline worker in the Victoria outdoor equipment and clothing store for more than a year, says the employees' experience shows why the province's rule requiring a secret ballot vote before workers can join a union needs to change.
The requirement gives management an opportunity to use scare tactics to keep employees from unionizing, he said.
"A lot of people shop at MEC… and they have this idea that MEC is better, that MEC is a very progressive organization, it is a co-op after all," Charron said.
"They're surprised to learn that no, we basically have the conditions that prevail at any other corporate retailer in terms of pay, scheduling and other working conditions. Many assume we're already unionized in fact."
Several permanent part-time and full-time jobs offer benefits and better pay at the store, but they are difficult to move into, he said.
"Many people have worked years there without being able to access those status positions and remain casual staff with no guarantee on their part in terms of hours and scheduling."
By the end of October about 70 per cent of MEC Victoria employees had signed cards certifying they wanted to join UFCW 1518.
But in B.C., there is a two-step process. If enough workers sign cards saying they want to join a union, a secret ballot vote is held to confirm the decision.
The certification vote was held Nov. 2. MEC filed an appeal arguing the vote count should not go ahead. A UFCW official said Friday that the votes had now been counted and MEC employees had voted with a strong majority to join the union.
Earlier this year the provincial government considered ending the requirement for a vote, but abandoned the change after it became clear the Green Party MLAs it relies on for support in the legislature wouldn't back the change. Only three other provinces require secret ballot votes in all unionization drives. MORE