Divisions in Canadian society, once primarily about linguistic identity, are starting to resemble those in the U.S. – a geographic split between energy-industry conservatives in the west and eastern environmentalist liberals.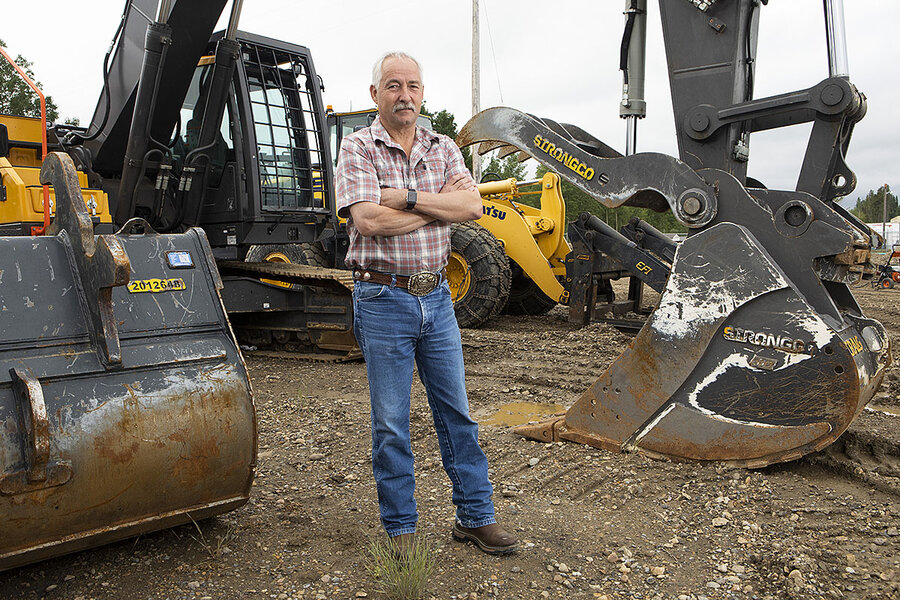 Melanie Stetson Freeman/Staff
Alberta, often called the Texas of Canada, is a frustrated place these days. Albertans are frustrated at Liberal policies under Prime Minister Justin Trudeau, at other provinces protesting the pipelines they want to build, and more recently at activists who have made the oil sands of Alberta one of the flashpoints of global environmental protest.
This frustration is not particularly new. Alienation is part of the identity of western Canada, says author Mary Janigan, and traces back over a century when the western provinces were created and control of their resources was given to Ottawa. "There's a lingering resentment about any central interference in resources," says Ms. Janigan. "Alberta's hackles remain up."
Yet today the consequences might be greater, as environmental concerns become more pressing. Paul Lemieux, who worked for 25 years in the oil business, says the rest of Canada can sometimes make Albertans feel like "a bunch of money-grubbing polluters."
He says that diminishes the common ground that exists. He calls Canadian standards on resource extraction some of the best in the world. "I'm not saying we couldn't do things better, for sure," he says. But they all have children and grandchildren whose futures they want to preserve too. "I don't think any of us wants to be environmentally unfriendly." SOURCE
Grieving for the environment, without saying 'climate change'
When environments change, people can feel they've lost something familiar and dear – even if they can't agree why. In an era of climate change, there's new thinking about how to cope.

Melanie Stetson Freeman/Staff Susan Heather, a farmer and agronomist,  stands on a hill overlooking her family farm and the Little Bow River, which flooded in 2013, on July, 2019 in Vulcan, Alberta. Ms. Heather helps other farmers deal with the stress caused by the vagaries of Mother Nature.
Agnieszka Wolska, a therapist in Calgary, joined an "Eco-Grief Support Circle" that meets twice a month after losing faith, she says, that nature could rebalance itself. She compares the circles to being at a wake, but it's also where she finds hope. "Together we have less individual despair. We can just have connection instead of fear or just sadness," she says.
Academics have begun to attach neologisms to feelings like Ms. Wolska's: "solastalgia," coined by an Australian philosopher in 2005, describes a form of distress caused by environmental change, or "ecological grief." Those feelings of loss surrounding a place are becoming increasingly common, as wilder weather patterns and natural disasters are, many scientists say, becoming more commonplace.
In the capital of Canada's oil industry, where everyone knows someone employed by it, that can lead to mixed feelings. Just 52% of Albertans believe they've seen conclusive or solid evidence of climate change, the lowest percentage in Canada. But people here describe a feeling akin to mourning over the loss of natural landscapes.
"When you lose your special place, it's a deep feeling," says Albertan agronomist Susan Heather. SOURCE