Climate strike founder shortlisted ahead of global strikes planned in more than 105 countries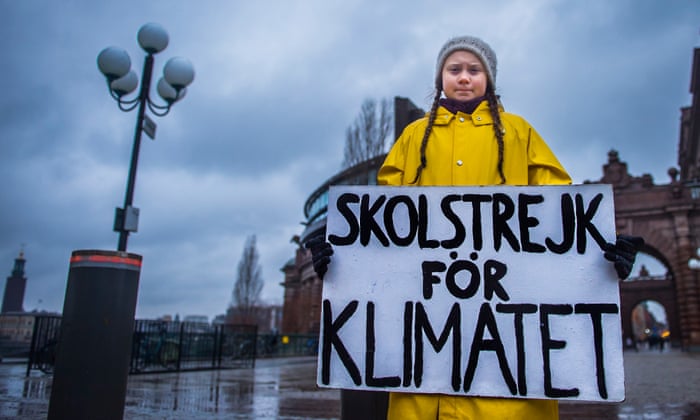 Greta Thunberg, 15, holds a placard reading 'School strike for the climate', during a protest outside the Swedish parliament in Stockholm last November. Photograph: Hanna Franzen/EPA
Greta Thunberg, the founder of the Youth Strike for Climate movement, has been nominated for the Nobel peace prize, just before the biggest day yet of global action.
Thunberg began a solo protest in Sweden in August but has since inspired students around the globe. Strikes are expected in 1,659 towns and cities in 105 countries on Friday, involving hundreds of thousands of young people.
"We have proposed Greta Thunberg because if we do nothing to halt climate change it will be the cause of wars, conflict and refugees," said Norwegian Socialist MP Freddy André Øvstegård. "Greta Thunberg has launched a mass movement which I see as a major contribution to peace."
"[I am] honoured and very grateful for this nomination," said Thunberg on Twitter. Tomorrow we #schoolstrike for our future. And we will continue to do so for as long as it takes." She has already challenged leaders in person at the UN climate summit in late 2018 and at Davos in January. "Change is coming whether they like it or not," she said.
National politicians and some university professors can nominate candidates for the Nobel peace prize, which will be awarded in December. There are 301 candidates for the 2019 prize: 223 individuals and 78 organisations. MORE