Jason's ace? There was always the federal government to bash. Not anymore.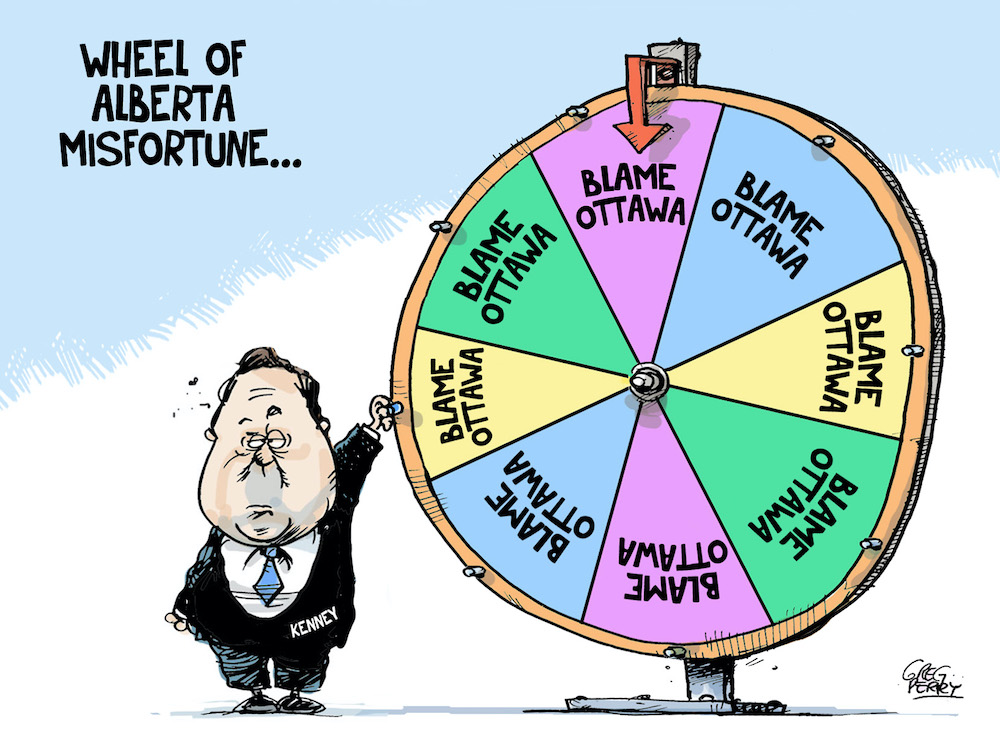 Cartoon by Greg Perry.
One of the many stories that the pandemic has eclipsed is Jason Kenney. Alberta's premier is suddenly at risk of going from being one of Canada's most successful populist politicians into its most outdated leader.
Before COVID-19 turned Times Square into a ghost town, shut down the NHL, and closed Parliament, the New York Stock Exchange, and the Taj Mahal, Kenney was making news directing elbows into Justin Trudeau's grizzled beard — elbows sharpened by years of political skirmishing. He kept bugging Trudeau to concentrate on the economy. Alberta's primarily.
It was the familiar harangue: Ottawa was failing the West and the energy sector, and it had to stop or else. Trudeau had other fish to fry, including extravagant promises on fighting climate change — promises he largely broke during his first term, and for which he was punished by voters in 2019.
After crushing Rachel Notley and the NDP in that year's provincial election, Kenney turned his guns on the feds with a vengeance. His base was suffering from extreme economic angst. Nothing concentrates the mind like being out of work. Alberta's premier had lots of targets: the hated carbon tax, the cancellation of the Energy East pipeline in 2017, and sluggish progress on the Trans Mountain pipeline expansion project.
With the decision by Teck Resources to drop its $20.6 billion Frontier mine in the tar sands, and Warren Buffett walking away from the $9-billion Quebec LNG project, it was easy for Kenney to twist the narrative and blame Ottawa again. Trudeau was doing for foreign investment what COVID-19 has done for cruise ship bookings.
Dealing with a PM who had just lost his majority government, Kenney's bully-boy tactics seemed to be working. Trudeau appeared to be back on his heels. Kenney rallied other premiers to his side, and got the hotter heads back home doing the separation two-step.
Kenney stamped his cowboy boots with vigour. Trudeau had to hand over wads of stabilization cash, approve more pipelines, and even help clean up the province's environmental mess, a legacy of irresponsible oil industry players. According to Kenney, Ottawa should adopt Alberta's orphan mines. (It just might). Otherwise, national unity would be at stake.
Oil crash fever
In the middle of mugging the feds, Kenney was hit by a double whammy for the ages. COVID-19 took the world by storm, crashing the stock market like a house of cards. And then there was the catastrophic drop in the price of oil after Russia, OPEC, and Saudi Arabia rumbled over the issue of cutting supply to prop up sagging prices.
Russia would not agree. Saudi Arabia then increased its production massively, and slashed its prices in an effort to get Moscow to bow to cuts. Mr. Putin didn't blink. Welcome to West Texas Intermediate oil hovering around $22 dollars U.S. a barrel — less than a third of the price needed by Teck Resources to make its Frontier project in the tar sands viable.
And welcome to the truth about the tar sands and Jason Kenney. Turn out the lights, the party's over. It has been for quite some time. This week, oil made from Alberta bitumen was going for just over $7 a barrel, discount and all.
The premier lives in the past, a place where successive Conservative governments relied on what they believed would be ever-increasing oil revenues; where you didn't have to have a real Sovereign Wealth Fund like Norway's; you didn't need a sales tax; climate change didn't exist; gas would always be cheap; and no one had ever heard of shale fracking.
Jason's ace?
If things really got sticky in the patch, there was always the federal government to bash. Not anymore.
The real world has suddenly supplanted Kenneyland.
Yesterday's oil patch
Trudeau can't be blamed for either COVID-19, or the catastrophic drop in the price of oil. There is only a ticking clock on fossil fuels as they overheat the planet, decades of bad resource management in Alberta, and Jason Kenney's determination to carry on the tradition. SOURCE