"The International Green New Deal changes the frame. Rather than pleading for restraint, it sets out a positive-sum vision of international investment, in which the gains from joining in outweigh those to going it alone."
Several countries have proposed their own versions of a Green New Deal, but climate change knows no borders. We need a global response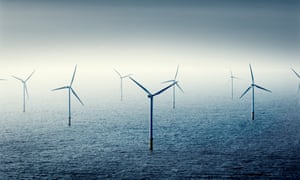 The stakes of the international Green New Deal are not merely environmental.' Photograph: Craig Easton/Getty Images/Cultura RF
In times of crisis and catastrophe, children are often forced to grow up quickly. We are now witnessing this premature call to action on a planetary scale. As the adults in government accelerate their consumption of fossil fuels, children are leading the campaign against our species' looming extinction. Our survival now depends on the prospects for a global movement to follow their lead and demand an International Green New Deal.
Several countries have proposed their own versions of a Green New Deal. Here in Europe, DiEM25 and our European Spring coalition are campaigning under the banner of a detailed Green New Deal agenda. In the UK, a new campaign is pushing similar legislation with MPs such as Caroline Lucas and Clive Lewis. And in the US, dogged activists in the Sunrise Movement are working with representatives such as Alexandria Ocasio-Cortez to push their proposal to the front of the political agenda.
Unfortunately, climate change knows no borders. The US may be the second-largest polluter in the world, but it makes up less than 15% of global greenhouse emissions. Leading by example is simply not enough.
Instead, we need an International Green New Deal: a pragmatic plan to raise $8tn – 5% of global GDP – each year, coordinate its investment in the transition to renewable energy and commit to providing climate protections on the basis of countries' needs, rather than their means.
Call it the Organization for Emergency Environmental Cooperation – the namesake of the original OEEC 75 years ago. While many US activists find inspiration in a "second world war-style mobilization", the International Green New Deal is better modeled by the Marshall plan that followed it. With financial assistance from the US government, 16 countries formed the Organization for European Economic Cooperation (OEEC), dedicated to rebuilding the infrastructure of a devastated continent and coordinating its supply of energy.
But if the original OEEC entrenched an extractive capitalism at Europe's core –protecting the steel and coal cartel – the new organization for an International Green New Deal can empower communities around the world in a single transformational project.
Confronting the climate crisis will require more than keeping fossil fuels in the ground.
The transnational scope of this mobilization is crucial for three main reasons. MORE
RELATED:
Economist Mariana Mazzucato explains how rethinking industrial policy could be key to tackling climate change.