The teens' arguement was obviously one the Trudeau Government didn't want to answer because, really, there was no moral answer they could make.
They argue the pipeline's contribution to the climate crisis violates their right to a secure future.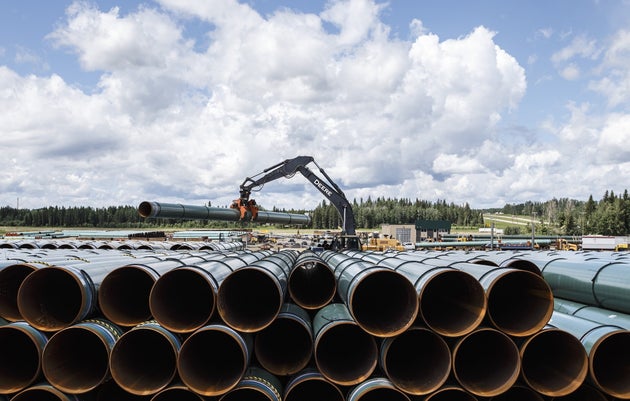 Pipe for the Trans Mountain pipeline is unloaded in Edson, Alta. on Tuesday June 18, 2019. THE CANADIAN PRESS/JASON FRANSON
A group of Canadian teenagers is fighting for the chance to take the federal government to court over the approval and purchase of the Trans Mountain pipeline, after its application to the Federal Court of Appeal was blocked by the Canadian government earlier this month.
In early July, 12 challenges were launched against the pipeline by various groups, including several First Nations and environmental organizations. They questioned the pipeline on various grounds, including Indigenous land rights and ecological harm to the southern resident orcas.
Olivier Adkin-Kaya, 18, Nina Tran, 18, Lena Andres, 17, and Rebecca Wolf Gage, 13 — who collectively call themselves Youth Stop TMX — filed a challenge arguing that the pipeline's construction was in violation of their right to life, liberty and security of person as young Canadians through its contribution to the ongoing climate crisis.
The teens are from four different cities across the country and they argue that the pipeline's construction and subsequent carbon emissions would contribute to ongoing climate change in Canada and continue to negatively impact their physical and mental well-being. Group members cited negative impacts like increased wildfire smoke due to rising global temperatures and growing anxiety over the climate crisis.
Of the 12 challenges, only the teens' was blocked from moving forward in the judicial process. Adkin-Kaya says he doesn't understand why only their challenge would be blocked.
"It's beyond me why, of all the parties filing judicial review applications, Trans Mountain Corporation and the Government of Canada singled out of the youth, the party representing those who will be the first experience the more severe effects of the climate crisis," he told HuffPost Canada. MORE
RELATED: