Ridiculed for their lies and bumbling, Jason Kenney's propagandists soldier on.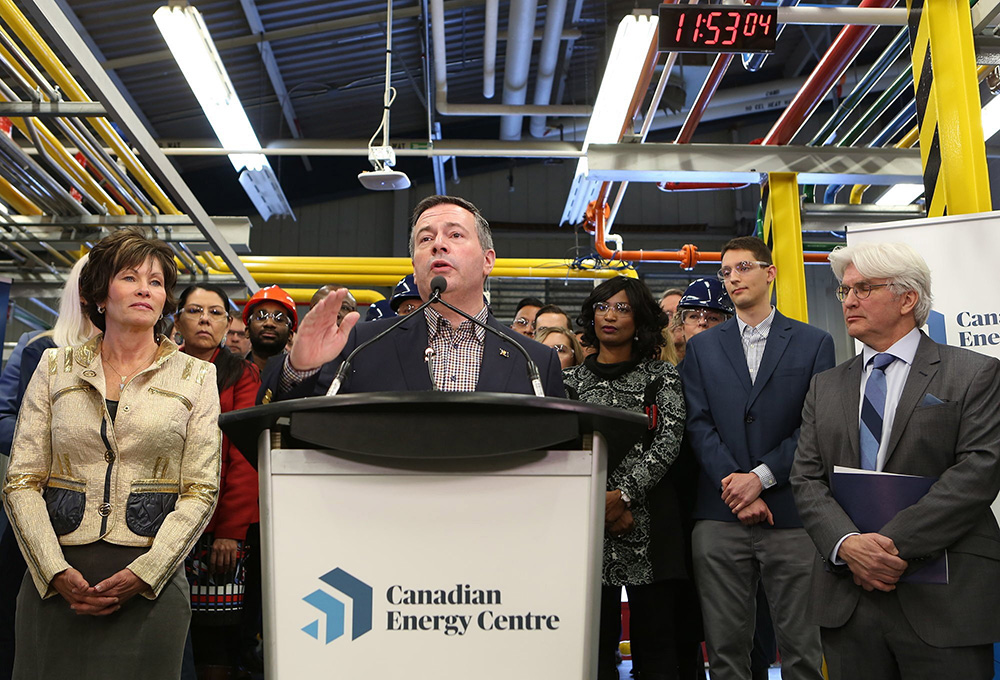 One critic called Alberta Premier Jason Kenney's energy 'war room' an 'expensive joke.' That made his war room brain trust upset. Photo by Greg Fulmes, the Canadian Press.
Jason Kenney is learning that it's not easy to set up a state-run propaganda agency.
Right off the bat, the Alberta premier's "war room" swore, as every propaganda outfit does, that it would "reject what is false and promote what is true."
The agency, officially named the Canadian Energy Centre and launched earlier this month with an annual budget of $30 million, picked one of its first battles with the Medicine Hat News.
That newspaper's crime was to publish an opinion piece by Jeremy Appel that lambasted the agency's motives: "Its entire premise is based on the notion that anyone who opposes oilsands expansion is a liar with ulterior motives."
Appel called the war room "an expensive joke" and "a grave threat to our right to dissent."
And he criticized Kenney for arguing, just like the extremist Ezra Levant, that the province needed a propaganda agency because Canadian oil is more ethical than Saudi or Russian oil.
"Are Albertans supposed to pat themselves on the back because they don't jail and execute dissidents, but merely dedicate public resources to their vilification and harassment without a shred of transparency?"
Appel's column proved something that George Orwell once wrote: that "if liberty means anything at all it means the right to tell people what they do not want to hear."
And so, the CEC immediately swung into action. Grady Semmens, a CEC agent and former Trans Canada PR guy, sent the paper a note saying it wanted to respond to the "comments and inaccuracies" in Appel's column. (For the record, Semmens describes himself as "a purpose-driven public affairs professional.")
The subsequent "guest column" makes no mention of any "inaccuracies" but swears the propaganda outfit will be "informative, positive and educational."
But how can a group staffed largely by conservative partisans or hydrocarbon fundamentalists be anything but ideological, political and false?
It starts at the top. Tom Olsen, CEC's managing director, used to serve as the press secretary for Tory premier Ed Stelmach and was a failed United Conservative Party candidate in the last election. (Count Olsen as at least one Albertan put back to work by Kenney.)
Pumping a deflated 'enemy'
Olsen and his indoctrinators, employing the Orwellian technique of inventing an enemy, pretend to be fighting a war against a foreign-funded, anti-oilsands campaign that largely ended four years ago. As Olsen blared, his agency "is a direct response to the domestic and foreign-funded campaigns against Canada's oil and gas industry that have divided Canadians and devastated the Alberta economy as energy production in the United States and elsewhere has ramped up."
Apparently Olsen has no knowledge of the 2014 oil price collapse, or other well-documented factors hurting his province's petro-prospects.
And he apparently also forgot that years ago, four oilsands executives sat down with five environmental groups involved in the anti-tarsands campaign led by Tzeporah Berman. In backrooms, they all agreed to a half-assed plan to limit emissions as opposed to production, which, rightly or wrongly, largely derailed the campaign.
The NDP government later joined in the climate policy agreement, leading to a splashy announcement in November 2015.
Still, no good propagandist discards a deflated enemy when falsely pumping one up better serves his purpose. Fighting a battle that has largely ended is surely good work if you can get it. MORE