Logging in Poland's Vistula lagoon described by experts as part of a 'war on nature' across the continent's ancient forests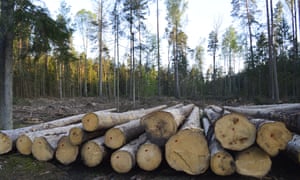 Logging in the Białowieża Forest in Poland. Photograph: Adam Bohdan/Wild Poland Foundation
A logging operation at Poland's spectacular 55-mile-long Vistula lagoon is casting a "dark omen" of deforestation and biodiversity collapse across Europe's forests, campaigners say.
Tree felling around the Natura 2000 site is aimed at clearing a path to the Baltic Sea for use by Poland's navy, to the alarm of Russia. But they are just one front in what some academics describe as a war on nature.
Campaigners blame the EU's own use of biomass to meet most of its renewable energy goals for encouraging logging in Europe's virgin forests.
The EU expects to lose about 125m tonnes of carbon sequestration potential from forests between 2010 and 2030, with countries such as Estonia, Latvia and Austria transforming from carbon sinks to carbon sources.
Poland still hopes to clear swathes of the Białowieża Forest, and several other ancient woodlands are also under threat across central and eastern Europe, with potential effects on Europe's greenhouse gas emissions. MORE
RELATED: