We are among the young people striking against climate change in every corner of the globe – adults should join us too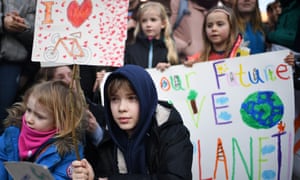 'This movement had to happen, we didn't have a choice.' Photograph: Jeff J Mitchell/Getty Images
It started in front of the Swedish parliament, on 20 August – a regular school day. Greta Thunberg sat with her painted sign and some homemade flyers. This was the first school climate strike. Fridays wouldn't be regular schooldays any longer. The rest of us, and many more alongside us, picked it up in Australia, Germany, Belgium, Switzerland, New Zealand, Uganda. Today the climate strike will take place all around the world.
This movement had to happen, we didn't have a choice. We knew there was a climate crisis. Not just because forests in Sweden or in the US had been on fire; because of alternating floods and drought in Germany and Australia; because of the collapse of alpine faces due to melting permafrost and other climate changes. We knew, because everything we read and watched screamed out to us that something was very wrong.
That first day of refusing to go to school was spent alone, but since then a movement of climate strikers has swept the globe. Today young people in more than 100 countries will walk out of class to demand action on the greatest threat humankind has ever faced.
These strikes are happening today – from Washington DC to Moscow, Tromsø to Invercargill, Beirut to Jerusalem, and Shanghai to Mumbai – because politicians have failed us. We've seen years of negotiations, pathetic deals on climate change, fossil fuel companies being given free rein to carve open our lands, drill beneath our soils and burn away our futures for their profit. We've seen fracking, deep sea drilling and coalmining continue. Politicians have known the truth about climate change and they've willingly handed over our future to profiteers whose search for quick cash threatens our very existence. MORE