'We have to look at downsizing, degrowth, using less.'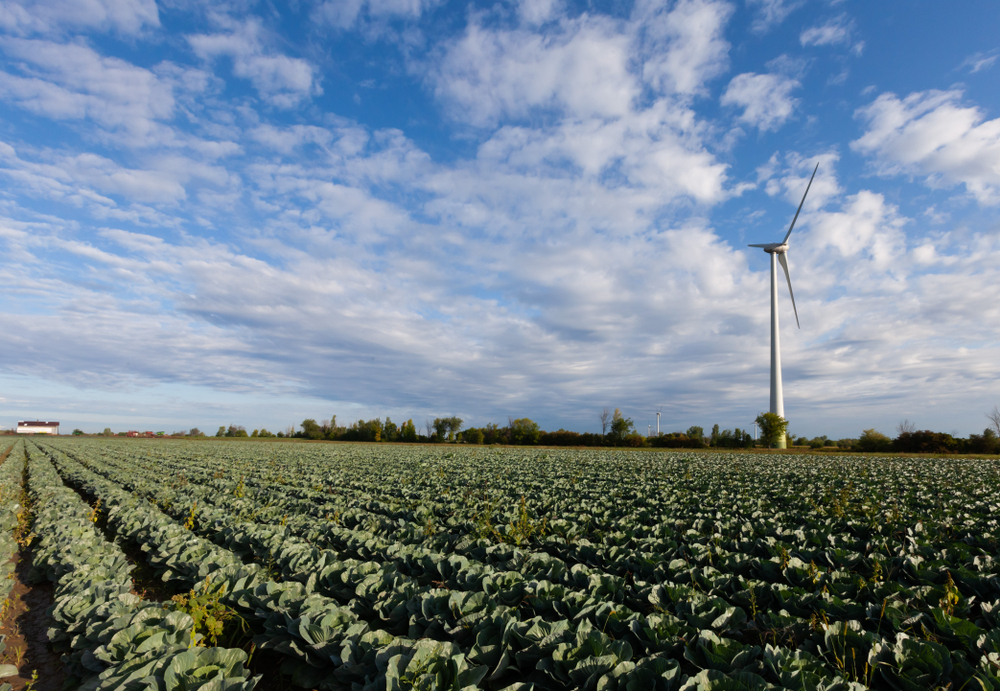 We've got a ways to go if we choose to reduce emissions by simply replacing fossil fuels with wind turbines. What also matters: using less energy. Photo via Shutterstock.
In a recent column about the dismal Canadian election, I wrote that most Canadians and their lacklustre political parties have no real appreciation of the physical and moral challenges posed by the disruptive force of climate change.
Although the media still portrays climate change as some vague threat to "the environment," it is really a self-made blitzkrieg that is already destabilizing a highly energy-intensive and complex human civilization.
Greta Thunberg has spoken prophetically: our civilized house is on fire.
But our collective politicians, blinded by ideology and technological illusions, refuse to panic, let alone call the community fire department.
They behave as though they can just build another house somewhere else on Mars, and then watch the conflagration on Netflix.
In that previous analysis, I quoted a Colorado professor, Roger Pielke Jr., who recently noted in Forbes that if we really wanted to reach zero carbon emissions by 2050, and we solely choose wind power as the solution, we'd need to build and deploy 1,500 wind turbines on about 300 square miles every day for the next 30 years.
We can't do that, of course, because of physics and economics. Pielke was simply illustrating the scale of the challenge if we thought that renewables could do all the work for us.
But a great many readers questioned Pielke's math; others questioned his motivation. Others questioned my sanity in quoting such a fellow.
Having written about energy for 30 years (and my best scribbling on the matter remains The Energy of Slaves), I thought Pielke's numbers, which can vary with wind power due to location and size of blades, were largely accurate and conveyed the enormity of the task at hand, especially if we think our energy crisis is just a substitution problem.
Pielke's numbers are also a reminder that as of 2018, solar power provided only 2.2 per cent of global energy and wind just 4.8 per cent.
In other words, we have a long way to go if we choose to reduce emissions by simply replacing fossil fuels with wind turbines. As the ecologist Bill Rees noted in his recent Tyee analysis, "the green energy transition is not really happening."
I asked David Hughes, one of Canada's most esteemed energy analysts, to comment on Pielke's math, and here's what he said.
Pielke, he said, ignored some data on existing renewables such as hydro dams but basically his math "is close to correct." Hughes added that it's physically impossible to replace all primary fossil fuel energy on a business-as-usual scale with renewables.
To Hughes, the implications are clear: "What this means is that we have to look at downsizing, degrowth, using less. The math doesn't work to keep the party going with renewables." Ecologist Rees delivered the same message a week ago in The Tyee.
Note that Hughes is not saying we shouldn't build lots of renewables. What he is saying is that we need to radically reduce energy consumption and use renewables to actually retire fossil fuel infrastructure. (To date, the evidence shows that we have largely used renewables to consume more energy.)