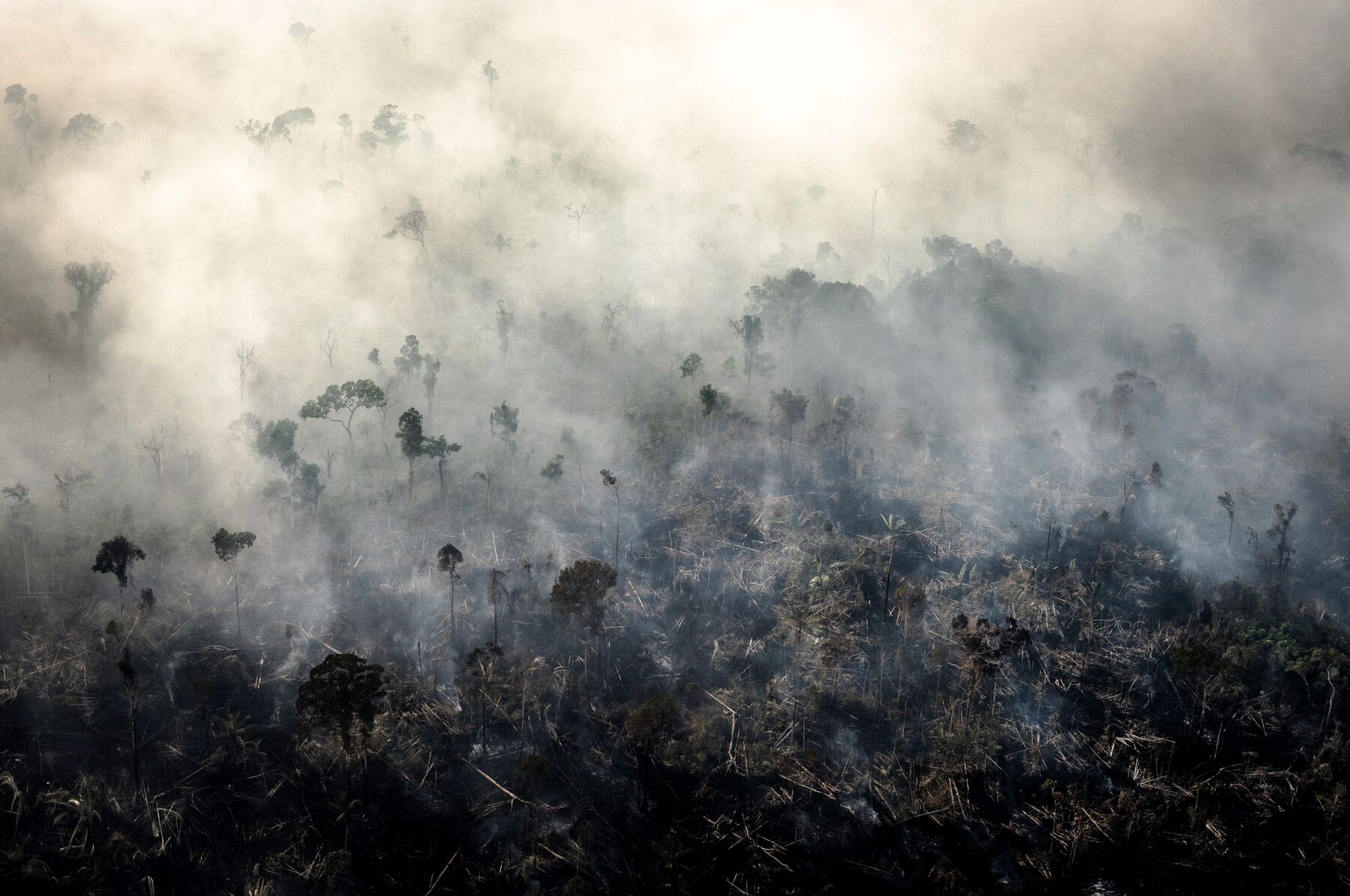 Smoke rises after fires burn through the Amazon rainforest in Rondonia state, Brazil, on Aug. 24, 2019. Photographer: Leonardo Carrato/Bloomberg
Last year's mammoth wildfires in the Amazon, Indonesia, and the Arctic Circle triggered a global conversation about the environmental and economic consequences of climate change. So it was with shock and still-raw emotion that, as 2020 began, the world absorbed the images of Australia's devastating bush fires.
These enormous blazes—some the size of a small country—aren't just destroying native forests and vulnerable animal species. They're also releasing billions of tons of greenhouse gases into the atmosphere, potentially accelerating global warming and leading to even more fires.
Total carbon emissions from forest fires in 2019 weren't anomalously high compared with previous years' counts. They rose last year by 26%, to 7.8 billion metric tons, the highest since 2002, according to the Global Fire Emissions Database (GFED). But overall they've been declining since the beginning of the century.
While emissions from fires have been going down, total human-generated emissions have been going up much more quickly. Fires were responsible for as much as a fifth of the 36.8 billion tons of carbon released last year from burning fossil fuels, down from about a quarter at the beginning of the century.
In general, scientists agree that global warming will result in more wildfires. The big question now is whether last year's spike is a one-time result or the start of a new trend.
Australia's fires emitted 409,700,000 metric tons of CO2 in summer 2019
Fires across the continent burned more than 6 million hectares, including national forests, with smoke reaching as far as Argentina.
In Australia, savannas, grasslands, and open woodlands burn every year. But last year's bush fires were unprecedented, especially because the rate of destruction in the southeast, which is full of temperate forests that don't usually burn, far exceeded the norm. According to researchers at Vrije Universiteit Amsterdam, about half of Australia's carbon emissions during this fire season came from the southeast.
Carbon emissions from fires are typically reabsorbed a few years later when grasses regrow, says Rebecca Buchholz, a scientist at the National Center for Atmospheric Research in Boulder, Colo. But this year that cycle "may be being pushed out of balance," she adds.
What made 2019 extraordinary wasn't the overall number of fires, or total fire emissions, but where they happened and how intense they were. Scientists were baffled to record fires burning in some parts of Siberia and Alaska for longer than they'd ever seen. MORE