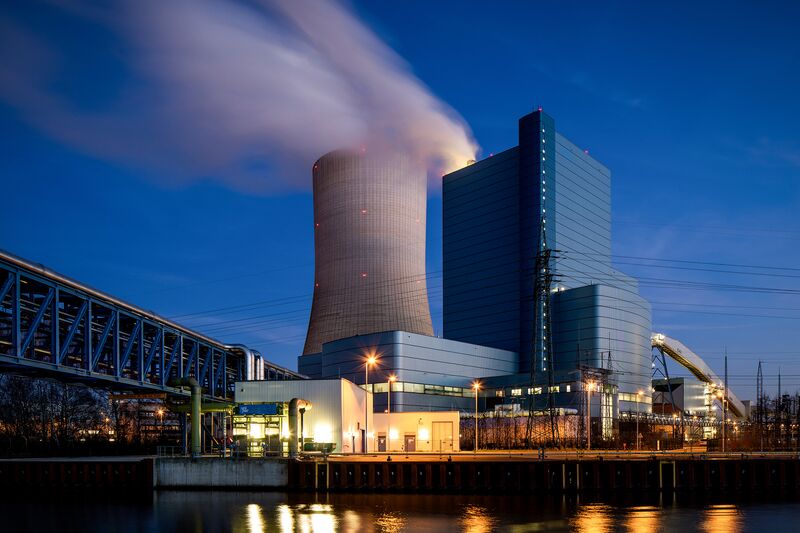 The Uniper power plant Datteln 4. Photographer:Marcel Kusch/picture alliance via Getty Images
One of Germany's biggest utilities plans to open a new coal plant even though the nation is lagging behind countries from U.K. to Spain in phasing out the fuel.
Protesters are already preparing to disrupt the opening of
Uniper SE
's Datteln-4 plant in June and could turn the utility into the latest flash point in Germany's increasingly fractious debate about the fossil fuel that still generates about a third of the country's electricity. The conflict could threaten Chancellor Angela Merkel's climate legacy as German emission targets lag following a decade of record renewable energy investments.
Merkel is trying to build consensus this week over a 2038 exit date for coal and heal widening rifts between industry and environmentalists. Government officials and company executives will meet for another round of talks Jan. 15 in Berlin, where they'll discuss compensation for abandoning coal. Uniper is keen for its plant to become one of the nation's last operating coal facilities.
"It'll be an own goal for Uniper to open it," said Dirk Jansen, an official at the environmental group BUND Friends of the Earth Germany.
The 1.5-billion euro ($1.7 billion) Datteln-4 plant, outside Dortmund in western Germany's industrial heartland, is already nine years late and over budget because of defects that delayed its connection to the grid.
Climate activists aren't buying the utility's arguments that the new facility burns cleaner than older models it plans to retire and wants the plant shuttered before it ever operates. MORE