Internal emails obtained by The Tyee reveal the prohibitive cost of convincing young people, an Instagram violation, an order to 'delete ASAP,' and more.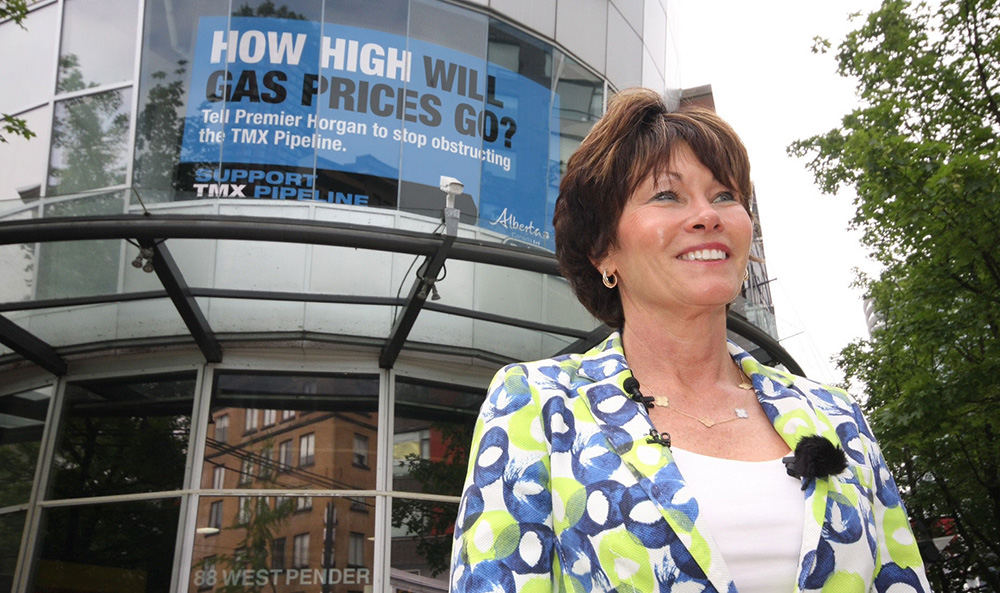 Alberta Energy Minister Sonya Savage visited Vancouver on May 30, 2019 to launch a $1.1-million BC ad campaign blaming high gas prices on TMX pipeline expansion delays. In the days after, Lower Mainland gas prices dropped 25 per cent for reasons unrelated to pipeline capacity. Photo via the Alberta government.
he Alberta government wages its clumsy propaganda campaign on behalf of the oil and gas industry from a $30-million "war room" called the Canadian Energy Centre that blocks public scrutiny. Premier Jason Kenney's UCP government made sure of its secrecy by exempting its inner workings from access to information laws.
But The Tyee has obtained internal documents from previous such efforts by the Kenney government — the "BC for TMX" and "Yes to TMX" campaigns conducted in 2019. Combined, they spent $2.75 million in taxpayer funds to place less than a week's worth of ads. Email exchanges shed light on tactics, costs and rule-bending inside the twin efforts to sway public opinion.
TMX stands for the Trans Mountain pipeline expansion that aims to nearly triple the amount of emissions-intensive oilsands crude sent from Alberta to Vancouver's port for shipping. Opponents include some First Nations, environmentalists, climate crisis activists and B.C.'s current NDP government.
The emails obtained by The Tyee via a freedom of information request reveal Alberta government employees:
Calculated that the cost to get younger people online to click through to ads on the TMX project had been $700 per conversion;
Discussed excluding highly-educated British Columbians from seeing their social media ads;
Deliberately hid information from social media ad recipients that would help them know why they were identified as targets;
After receiving a backlash online for its messages, abruptly narrowed their ad recipient target in B.C. to those already supporting the pipeline;
Marked "urgent" the decision to "blacklist" a dating site known to be used by LGBTQ+ people from all Government of Alberta advertising.
The emails also reveal the team trying to figure out exactly which Instagram rules they violated, causing their site to be taken down by the social media platform.
And at one point, an urgent order was issued to delete all BC For TMX social media accounts and other campaign evidence.
Young people? Never mind
The emails are exchanges within the Communications and Public Engagement department in charge of the campaigns. Near the start of the campaigns on June 3, 2019, CPE staff in Alberta wondered why only people over 25 years old were being targeted in B.C.
In response, an email from a campaign team member, name redacted, replied it was because "we spent about $700 a person to convert 18-24s." The age group simply "don't care or are actively opposed" the sender explained.
— ᴅᴀʟᴇ ᴄᴀʟᴋɪɴs (@DaleCalkins) June 8, 2019

So, based on what these accounts have shared, @YourAlberta is paying $1,650,000 and $1,100,000 on twitter accounts to sell the TMX Pipeline to Ottawa (@YesToTMX) and BC (@BCforTMX) respectively. At present, that's $26,190.48 and $5,238.10 per follower. #ableg pic.twitter.com/FNgzCdhvyy
The 2019 joint TMX campaign has been criticized for spending millions of dollars for online efforts that drew a large proportion of negative responses and few