Number one on the list, is to have all fees waived for Indigenous communities to host events in public spaces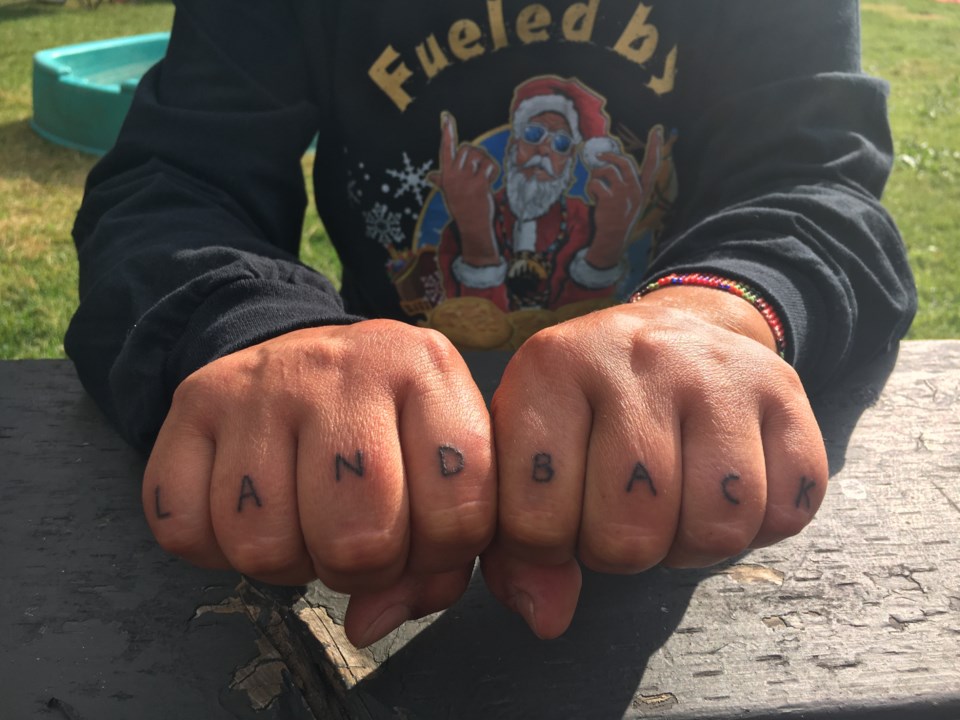 The words "Land Back" tattooed across the knuckles of one of the organizers. Phi Doan/ Kitchener Today
Organizers behind the Indigenous Land Back Camp in Victoria Park have presented a list of their demands in a new petition.
The occupation camp has been set up since June 20, and have requested to speak with the mayors of Waterloo and Kitchener a number of times.
After their first initial meeting, communication between the camp and the mayors has been slow, outside ongoing email exchanges with other city staff, like Parks and Facilities.
Following the huge success of their Gofundme, the organizers wanted to keep the momentum going. The petition was the camp's way of making their demands clear, and to keep pressure on the cities.
Their demands goes as follows:
We demand that all fees be waived for the Indigenous communities to host events in public spaces.
We demand that land in Victoria Park, and Waterloo Park, be given back to the Indigenous Peoples. These spaces will be used for gathering and ceremonial purposes.
We demand that the cities create paid positions, at all levels, for Indigenous Peoples to be able to engage with the First Nations, Metis, and Inuit peoples living on this territory.
We demand that the cities create Indigenous Advisory Committees (paid) that will work with the Mayors and City Councillors in helping to address topics such as racial injustice, the lack of access to Indigenous services and community spaces, and addressing the Truth and Reconciliation Commission's 94 Calls to Actions.
"One thing we always found was; there's always so many fees, and red tape and permits that we have to have just for our community to come together," said co-organizer Shawn Johnston of the Anishinaabe First Nations, originally from Treaty Three Territory. They said many other small organization have given up on holding events all together because of the fees. Johnston says local community members trying to raise the funds necessary are often short-lived.
"We don't have a community centre. We don't have a friendship centre for us to meet, so a place like the pavilion is really one of the only few places that we can go," they said. Johnston cites the $500 fee to rent the pavilion as just one of the many hoops they as a community have to jump through to hold their event.
"It will be a requirement of the city to never asks us for all the paperwork," said Co-organizer Amy Smoke of the Mohawk Nation Turtle Clan from the Six Nation of the Grand River. "The permits in Waterloo Park alone, we had to get so many permits; they do the locates; they have to have they tent sizes. It doesn't change much year-to-year, and to have to go through that every single year."
According to Smoke, they hav a community of around 20,000 to 30,000 First Nations, Metis and Inuit in Waterloo Region, but do not have a permanent physical space to hold their meetings and ceremonies at.
"All the other locations that we have access to, we are at the whim of the landowner or organization that we have good faith agreements with, and when they change their mind; if they change their mind; when they usually change their mind, those projects and spaces are clawed back from us." she said.
Regarding their second demand, Johnston hopes the cities will follow Guelph's example, and that one day they hope to return to the campsite location a year later to find a dedicated sacred fire space for Indigenous gatherings. Smoke goes a step further, wanting to see a physical groundbreaking ceremony. The land would be in addition to seeing an urban centre created for the Indigenous communtiy.
The rest of their demands would see the cities step up their reconciliation efforts by creating paid positions in all government offices for Indigenous people. It would ensure that their voices are heard during any decisions or projects the cities have. The paid Indigenous Advisory Committee would be working with the cities to make sure they address issues facing the Indigenous community, and make progress in realizing the Truth and Reconciliation Commission's long list of recommendations.
Smoke says the cities' slow response on these issues—as well as Canada at large—is frustrating. While the group does not want the camp to still be set up year from now, they will continue to occupy Victoria Park until they see their demands met.
To sign the petition, CLICK HERE.
---