The Fraser River is one of the most important rivers in the world for wild salmon. It is British Columbia's longest river, carrying spring water all the way from the Rockies to the Strait of Georgia in Vancouver.
Along this river in Delta, BC, is where FortisBC wants to expand its Tilbury LNG plant. If we don't intervene, this project could have devastating impacts on wild salmon and other endangered fish species which nearby Indigenous communities rely on. LNG (liquefied natural gas) is a known climate disaster too. Not even counting the pollution from the fracking needed to extract the gas, this project would add 49,000 cars worth of carbon emissions to our atmosphere.
FortisBC has applied to the BC Environmental Assessment Office (BC EAO) for a permit to start construction, and they're accepting public comments about the project until July 16th. We still have a chance to stop the Tilbury LNG expansion in its tracks, but we have to act fast.
Submit a comment to the BC EAO and urge them to stop this environmental disaster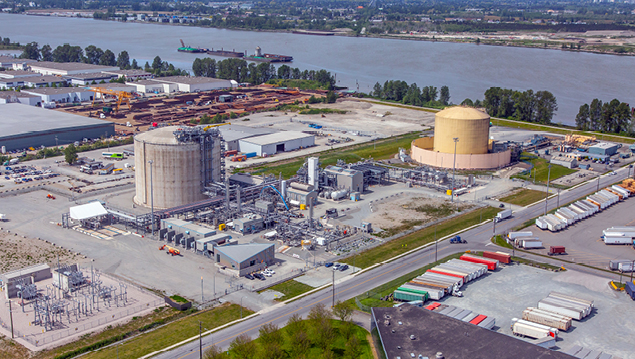 The current Tilbury LNG plant on the fragile Fraser River.
This public comment process is our opportunity to point out all the concerning impacts of the Tilbury LNG plant and force the BC EAO to take them seriously. And there are many. The Tilbury LNG expansion and its accompanying jetty could threaten some of the most important salmon runs on the West Coast. It could spell the end for endangered fish like the White Sturgeon, as well as a population of Steelhead fish with a mere 40 adults who returned to spawn this spring. And it would be yet another blow for Southern Resident Killer Whales, whose critical habitat is already threatened by the Trans Mountain pipeline.
Building an LNG plant and marine shipment facility in a location with already significant marine traffic, fragile marine species, in close proximity to an airport and a densely populated community would not be allowed in the U.S. But we don't have those same legal protections here in B.C.
The Tilbury LNG plant will keep its damage local but wants to export its production overseas. The rest of it will be sold as ship fuel. Though deceptively marketed as a climate solution, LNG is not a climate-friendly fuel. LNG is fracked gas, primarily made up of methane – a potent greenhouse gas that traps far more heat than the same amount of CO2. So when plants and marine engines leak LNG, they're leaking methane. Research shows that using LNG for ship fuel can actually be worse for the climate than the dirty fuel currently being used around the world. Meanwhile, companies around the world are moving away from oil and gas, with LNG projects in Canada already relying heavily on taxpayer funded subsidies. Further investment in fossil fuel infrastructure is not right for the climate or the economy.
This initial public consultation by the BC EAO will shape the environmental assessment that Tilbury LNG will have to pass to secure a permit. But if the BC EAO isn't flooded with comments raising the alarm about this proposal, the majority of these impacts could fly under the radar. We can't stand by and allow this project to be quietly approved.
Will you take a minute and send a message to the BC EAO to register your opposition to the Tilbury LNG expansion? Our easy tool makes it quick and easy to send your submission online via fax.
Earlier this year, I witnessed what this community was capable of when Stand.earth members played an integral role in winning the campaign to stop the Teck tar sands mine proposal. Thanks to every single one of you who signed petitions, made phone calls, donated, sent letters and more – what was once a little known mine proposal soon became a political hot potato for the federal government. Now that we're up against a proposal for yet another climate-wrecking fossil fuel project, it's time to rinse and repeat that winning strategy.
Thank you for speaking up about the dangerous Tilbury LNG proposal. This is just the beginning of our fight to expose LNG for what it truly is: another climate catastrophe. And I can't wait to continue this work together.
With respect,
Niki Sharma, Lawyer and Senior Oil and Gas Campaigner, Stand.earth