No, coronavirus is not a "strain of influenza."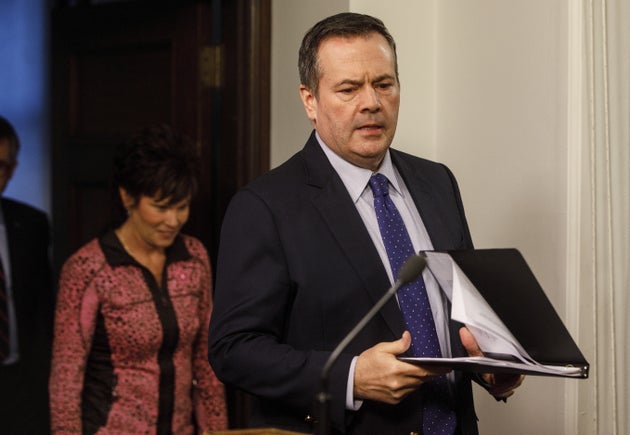 Alberta Premier Jason Kenney updates media on measures taken to help with COVID-19 in Edmonton on March 20, 2020.  JASON FRANSON/THE CANADIAN PRESS
It would be understandable if you think Alberta Premier Jason Kenney really wants people to believe that COVID-19 is like "strains of influenza" we've seen before.
"One thing I think we're learning, epidemiologically, is that that population has a very high level of immune resistance, of immunity and resilience against an influenza of this nature," Kenney told the legislature Wednesday.
This week the premier repeatedly made comments downplaying the threat of the virus to the general population, referring to COVID-19 as an "influenza that does not generally threaten life apart from the most elderly."
Kenney's words come amid his push to continue reopening the province. Alberta is set to lift its provincial public health emergency on June 15. As of May 29, there have been almost 7,000 test-positive cases there, with 143 deaths.
There are still 652 "active" cases in Alberta.
"We cannot continue indefinitely to impair the social and economic — as well as the mental health and physiological health of the broader population — for potentially a year for an influenza that does not generally threaten life apart from the elderly and the immunocompromised," the premier said Wednesday.
On Thursday, Kenney walked back the comments.
"I was not trying to provide a comprehensive scientific exposition on the nature of this disease but rather that I believe Alberta has done very well," he told reporters.
But here's why experts say referring to COVID-19 as being "like the flu" is wrong — and can be incredibly dangerous.
Two totally different viruses
University of British Columbia School of Population and Public Health professor Stephen Hoption Cann says it's "wishful thinking" for Kenney to assume there's resistance or resilience in the community without a lot of scientific proof.
"Albertans are healthy, as are generally most Canadians living in a good economy and we have good health care," he told HuffPost. "But that's not going to protect you and that's not going to protect certain populations against the COVID-19 infection."
Cann said it's important political figures like Kenney distinguish between influenza and the coronavirus, because  it's problematic if people think the flu vaccine or other treatments will work for COVID-19.