Data obtained via a freedom of information request shows taxpayers are footing the bill for delinquent companies' payments to private landowners, to the tune of nearly $30 million since 2010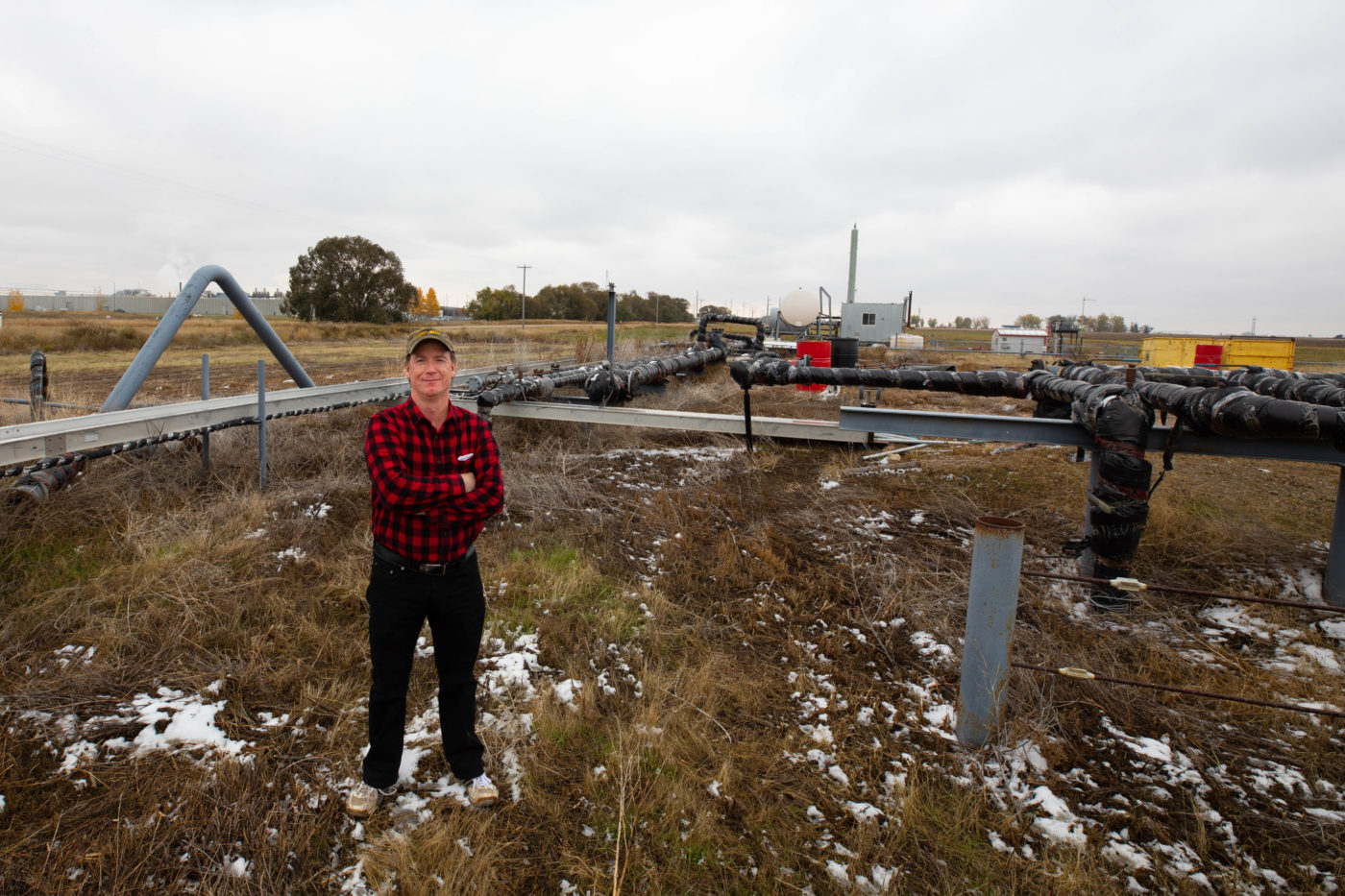 Daryl Bennett, a farmer and director with landowner group Action Surface Rights, poses beside oil and gas infrastructure near Taber, Alta. Bennett says "companies have learned to game the system." Photo: Theresa Tayler / The Narwhal
The Alberta government failed to recoup more than $8 million in land rents it paid to landowners on behalf of oil and gas companies last year, data obtained by The Narwhal via a freedom of information request reveals.
Industry paid back just $302,000, or less than four per cent of what was owed in 2019 — a continuation of a trend that has seen companies rack up nearly $30 million in rent debt to the government since 2010.
"If companies can't afford to pay landowners to operate on private land, that's a flashing red light that something is terribly wrong," Regan Boychuk of the Alberta Liabilities Disclosure Project told The Narwhal.
"There's no effort afoot to solve this problem," he added.
Companies are supposed to pay rent to landowners when they drill a well on their land. If a company doesn't pay, a landowner can apply to the Government of Alberta's Surface Rights Board for compensation. The government is then tasked with recouping that money from delinquent oil and gas companies.
But data shows it is seldom successful.
Since 2010, Alberta oil and gas companies have racked up nearly $30 million in debt to the Alberta government in this way.
Data obtained through freedom of information requests shows only $638,000, or just over two per cent, has been recovered over that period.
Meanwhile, the amount paid out by the government for land rent on behalf of delinquent oil and gas companies has increased 1,183 per cent since 2010.
At the same time, the province's Orphan Well Association has been loaned more than half a billion dollars in recent years and in April the struggling conventional oil and gas industry in Alberta has been handed $1 billion in grants from the federal government to plug and clean up inactive wells languishing on the landscape, to be administered by the provincial government.
The Government of Alberta is currently accepting applications for the second phase of the $1-billion grant package, with $100 million earmarked specifically for the cleanup of sites owned by companies for which taxpayers have had to pay their land rent. For accepted wells, the government will now also pay for 100 per cent of well plugging and cleanup.
"We have to start asking the question, 'why can't they pay basic bills?' " Boychuk said. "And that leads to some uncomfortable answers about the future of the industry."
'Gaming the system'
There are more than 336,000 oil and gas wells across Alberta, according to the provincial government. Many of them are on private land.
If a company fails to pay the annual rent they have agreed on, the landowner can apply for a "recovery of rentals" from the Surface Rights Board, as per the Surface Rights Act, and receive their compensation from Alberta's general revenue fund. That's taxpayer money.
The Narwhal reported last year that the tab for taxpayer money paying land rent on behalf of oil and gas companies was already $20 million. It's now grown by close to $10 million, according to data provided to The Narwhal by the Surface Rights Board.
This is supposed to be a temporary fix, as the government is then meant to recoup taxpayers' money by tracking down the company and collecting the funds.