Interest in local growing is exploding while funds shrink.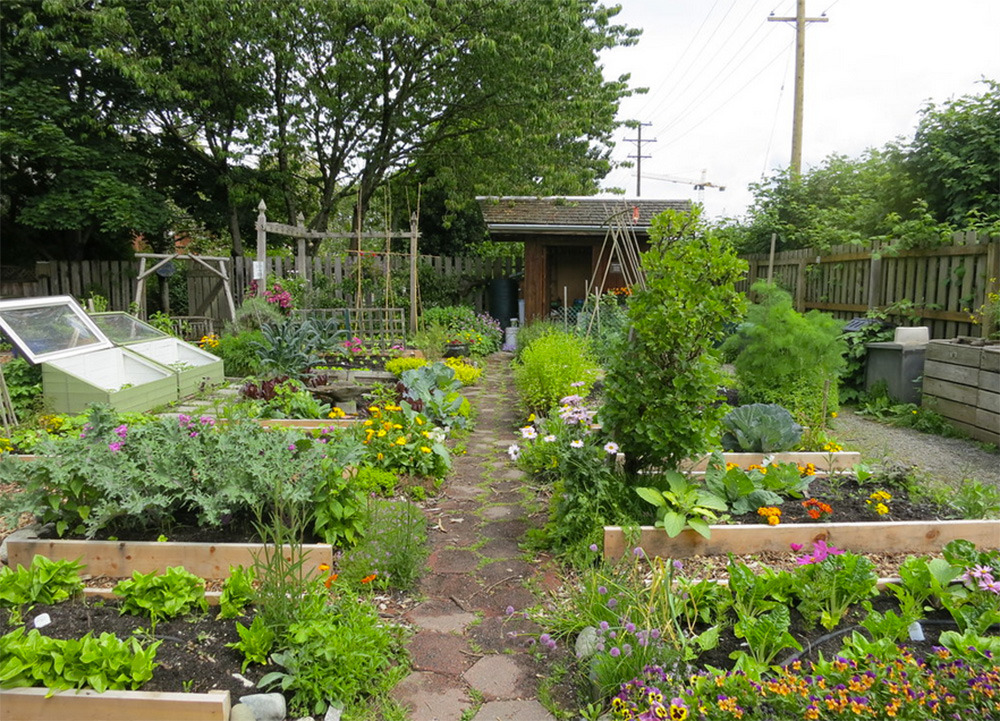 Organizations that run community gardens in BC are working to ensure their allotments remain open to local gardeners. This photo of Vancouver's compost demonstration garden was taken before the pandemic. Photo by Ruth Hartnup.
Interest in growing food has exploded during the COVID-19 crisis, but not everyone has access to a yard or even a balcony. Community gardens play a crucial role for both households and food security organizations. But how are they functioning now — if they are at all?
Despite the province designating community gardens as an essential service, some municipalities like View Royal, a small suburb of Victoria, have decided to keep them closed during the pandemic, with the council citing public health and safety concerns.
In Surrey, parks staff knew that when they looked at ways citizens could be outside safely, community gardens needed to stay open. "We definitely see the value of [community gardens]," says Dan Nielsen, manager of landscape operations and park partnerships. "We are, as a city, here to support our residents in these times."
While the social aspect of community gardening may currently be missing, he says other benefits remain. "I think when [community gardens] were identified as an essential service through the province, we realized that aside from the value of growing local food, there's also the therapeutic and recreational value that people can get from being able to garden," Nielsen says.
Surrey parkland hosts about 450 plots in seven community gardens and one orchard, each run by independent garden societies. The focus is now solely on individuals efficiently tending their plots, and Nielsen is communicating more regularly with co-ordinators to help them with necessary changes. He's encouraging them to hold meetings online and develop digital schedules for members. The city continues to supply soil, but is limiting access to shared tools, encouraging gardeners to wear gloves, and telling people to stay away if they're sick.
So far feedback has been positive. The gardens continue to operate at full capacity — the majority have wait lists — and though it is early in the season, he hasn't heard of anyone who doesn't plan on gardening this year. The next step is to see which of the activities and workshops can be offered online. Nielsen is partnering with Surrey's Honeybee Centre to deliver a virtual tutorial about the hives the city hosts at the orchard and other locations.
Surrey staff worked with groups like Can You Dig It, a program of the Public Health Association of BC that promotes community gardens, to develop some best practices. Aaren Topley, Can You Dig It's provincial manager, suggests hand-washing stations at entrances, having people bring their own tools or tool-washing stations where that's not possible, and staggered schedules for gardeners, with priority given to seniors, immunocompromised people and essential workers.
Since health recommendations are always changing, Topley is watching what grocery stores and farmers markets are doing for sanitary practices and connecting with health officers.
"In the time of this pandemic, it is vital for people to feel connected to both their community and their food. That is why we are seeing an increasing desire for people to grow food and why municipalities are working hard to keep community gardens open," says Topley.
North of the Fraser River, Vancouver's community gardens are adapting as well. Normally accessible to the public, some now sport signs asking non-members to stay out. The Vancouver Park Board has asked gardens to cancel public events, but is allowing them to stay open if people maintain the two-metre distance, do not share food or tools, and follow city guidelines, including staying home when sick and frequent hand-washing.
Organizations are encouraged to connect with their members through webinars, social media and tracking plant and wildlife observations.
Village Vancouver, a transition town society focused mainly on food, plans to run online workshops, and a multilingual permaculture walking tour that was already being developed with UBC students and may become a self-guided version once it's appropriate. According to executive director Ross Moster, VV serves approximately 5,000 to 10,000 people annually through its collaborative and sponsored gardens, 150 workshops and other services.
A main priority for Moster is getting the water turned on at now-closed facilities that host VV gardens, such as the McBride Fieldhouse and the West Vancouver Community Centre. Aside from one group that is trying to access their growing space at a public library, he hasn't heard of any Vancouver community gardens that aren't open.
Community gardens often host work parties to tackle shared projects, an effort that is impossible now. Moster says some gardens have organized "work weeks" or have small teams carry out the labour instead. For scheduling, VV gardeners show up at set times already, and Moster has prepared mini-toolkits with bleach wipes for those who lack their own. He's developing free planter box kits for people who want to grow at home.
VV also provides hundreds of thousands of free seeds each year. Moster wants to expand these seed libraries to meet current demand, but he has to secure VV's own supply first. Since most seed companies are behind on orders, he is using seeds that are two or three years old while sourcing donations from community contacts and asking associated gardeners to save their extras.
As community gardens lose workshop revenue, city budgets disintegrate, and grants from local foundations dry up, Moster worries slightly about funding. He says community gardens run on very little — "a wing and a prayer" — and VV can move money around for now, but he is looking at alternate sources, including a potential GoFundMe campaign.
Moster is waiting to see if the current interest in food security holds. He recently watched a documentary on the 1918 flu pandemic in which people wanted to forget about it as soon as it was over. Instead, he hopes that as people see how unprepared we are for this crisis, it will foster more of what he calls community food resiliency.
"I'm hoping that there will at least be a mixed reaction — that it really points out how vulnerable we are and also that a lot of this reaction will translate over to the climate emergency and people will see that, hey, we can't just react at the last minute and expect things to be okay." 

SOURCE
RELATED: