The pandemic has exposed his contradictory claims and true priority.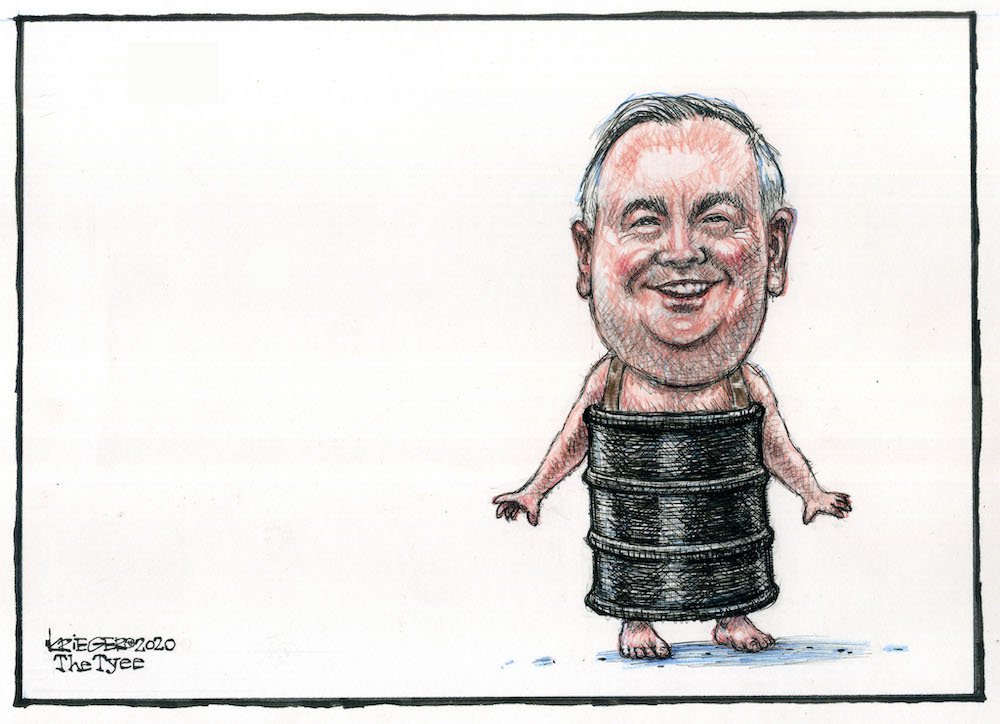 Illustration for The Tyee by Bob Krieger.
Last September, Jason Kenney was welcomed like a favourite son at the New York headquarters of the Manhattan Institute, which describes itself as "a leading voice of free-market ideas, shaping political culture." The think tank has helped mould the views of Republican presidents like George W. Bush and received millions of dollars from the oil refiner-funded Charles G. Koch Charitable Foundation, ExxonMobil, and the family foundation of Breitbart News funder and pro-Donald Trump billionaire Robert Mercer.
This night the premier of Alberta was lionized for his "character" and "largeness of vision and a fearsome work ethic," by Manhattan Institute president Reihan Salam. Thanks to Kenney, Alberta was a case study of the Institute's ideas put into practice, including "restrained government spending, a more modest tax burden." The conservative movement, Salam said, should be paying close attention. "Across the English-speaking world, few conservatives have done as much to adapt time-honoured principles to new realities as the premier."
Kenney could barely contain a smile. "I am really deeply honoured by this invitation," he told the grey-haired, well-heeled group. "I grew up as a kid reading Manhattan Institute studies and books and articles." To approving chuckles, he described Alberta as "sort of Canada's Texas. We are the beating heart of free enterprise values in the Canadian political culture. We are the heart of Canada's enormous energy industry."
In that summation lay certain contradictions left unspoken by the Manhattan Institute and other think tanks in its right-wing network, and by Kenney himself as he campaigned for premier by claiming to champion, all at once, the oilsands industry, fiscal conservatism, free market values, and jobs, jobs, jobs for Albertans.
Seven months later, the garbled incoherence to such claims cannot be ignored as a pandemic strains a public sector where jobs were slashed by budget cuts, market forces this week drove the price of bitumen below zero and, nevertheless, Kenney risks billions of taxpayer dollars funding more pipeline infrastructure to move oilsands crude.