From soap to reusable cutlery, green products are overwhelmingly marketed to and bought by women. Does this discourage men from taking responsibility?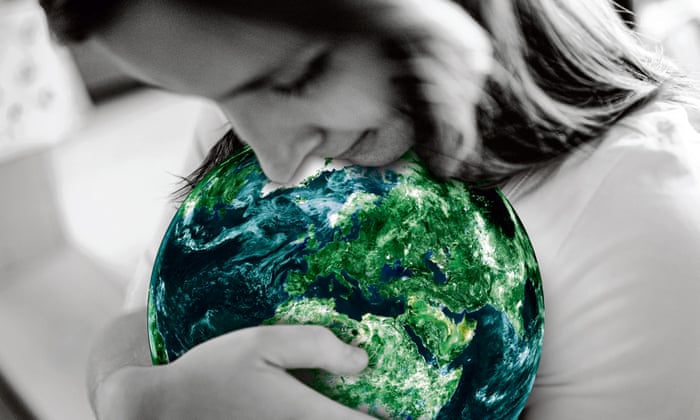 It sometimes seems that women are getting more desperate about trying to solve problems created by men.' Composite: Getty Images/Rex Features/Guardian imaging;
It was not long ago that, if you wanted to reduce the impact of your consumer choices on the environment, your only option was to use your own shopping bag. These days, the eco-minded shopper is overwhelmed with "green" choices. With the rise of reusable pads and menstrual cups, your period can now be plastic-free. Cosmetics increasingly come in glass and aluminium containers. Even hosiery brands are swapping nylon for more eco-friendly material.
Given the devastating toll of consumer waste on the health of the planet, you may find this visible drive towards sustainability on supermarket shelves cheering. But if you are a man, you may not have even noticed it: most eco-friendly products are marketed to women.
There is an obvious (and depressing) reason for this: women are not only more powerful consumers, but also disproportionately responsible, still, for the domestic sphere. The result of this is what the market research firm Mintel has termed an "eco gender gap", where green branding might as well be pink.
In a 2018 report by Mintel on the subject, Jack Duckett, a senior consumer lifestyles analyst, said women "still tend to take charge of the running of the household", with laundry, cleaning and recycling falling under that banner. But "with eco-friendly campaigns and product claims largely aimed at female audiences", advertisers run the risk of communicating the message that sustainability is women's work.
The idea is already insidious due to the persistent portrayal of women as caregivers – even of the planet. Janet K Swim, a professor of psychology at Pennsylvania State University who has done extensive research into the social consequences of environmentally friendly behaviour, points to a political cartoon showing Theodore Roosevelt, the US president from 1901 to 1909, wearing an apron, "trying to mock him as feminine" for his conservation policies.