Green growth and 'hedonistic sustainability' have helped keep the public on board as the Danish capital seeks to reach its goal by 2025 – and so far it's all going according to plan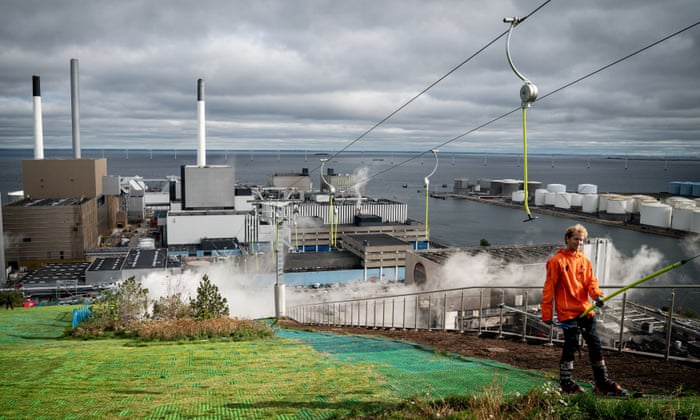 The ski slope on the roof of Copenhagen's Amager Resource Centre. Photograph: Ritzau Scanpix Denmark/Reuters
"We call it hedonistic sustainability," says Jacob Simonsen of the decision to put an artificial ski slope on the roof of the £485m Amager Resource Centre (Arc), Copenhagen's cutting-edge new waste-to-energy power plant. "It's not just good for the environment, it's good for life."
Skiing is just one of the activities that Simonsen, Arc's chief executive, and Bjarke Ingels, its lead architect, hope will enhance the latest jewel in Copenhagen's sustainability crown. The incinerator building also incorporates hiking and running trails, a street fitness gym and the world's highest outdoor climbing wall, an 85-metre "natural mountain" complete with overhangs that rises the full height of the main structure. 
It's all part of Copenhagen's plan to be net carbon-neutral by 2025. Even now, after a summer that saw wildfires ravage the Arctic Circle and ice sheets in Greenland suffer near-record levels of melt, the goal seems ambitious. In 2009, when the project was formulated, it was positively revolutionary.
"A green, smart, carbon-neutral city," declared the cover of the climate action plan, before detailing the scale of the challenge: 100 new wind turbines; a 20% reduction in both heat and commercial electricity consumption; 75% of all journeys to be by bike, on foot, or by public transport; the biogas-ification of all organic waste; 60,000 sq metres of new solar panels; and 100% of the city's heating requirements to be met by renewables.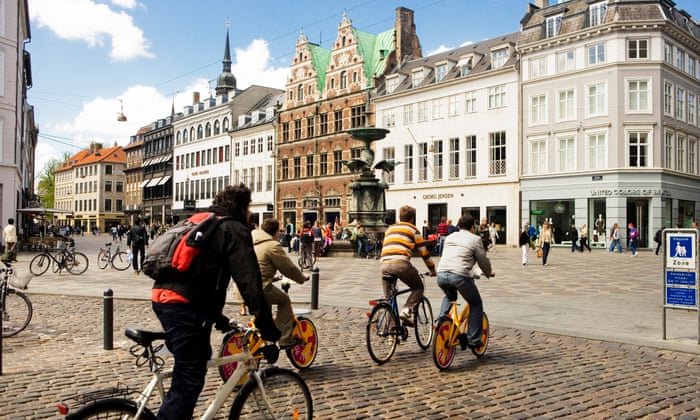 People cycle in central Copenhagen. Photograph: Dag Sundberg/Getty Images
Radical and far-reaching, the scheme dared to rethink the very infrastructure underpinning the city. There's still not a climate project anywhere else in the world that comes close.
And, so far, it's working. CO2 emissions have been reduced by 42% since 2005, and while challenges around mobility and energy consumption remain (new technologies such as better batteries and carbon capture are being implemented), the city says it is on track to achieve its ultimate goal.
The sentiment that lies behind Arc's conception as a multi-use public good – "hedonistic sustainability" – is echoed by Bo Asmus Kjeldgaard, former mayor of Copenhagen for the environment and the man originally tasked, back in 2010, with making the plan a reality.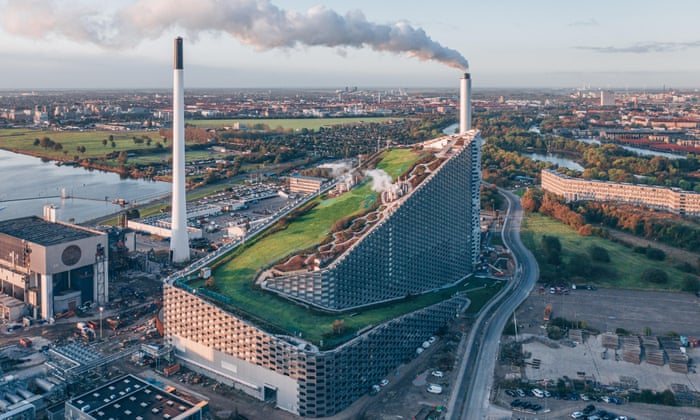 The Amager Resource Centre. Photograph: Gonzales Photo/Alamy
"We combined life quality with sustainability and called it 'liveability'," says Kjeldgaard, now CEO of his own climate adaptation company, Greenovation. "We succeeded in building a good narrative around this, one that everybody could believe in."
The idea was first floated in the late 1990s, when the newly elected Kjeldgaard had a vision of Copenhagen as the environmental capital of Europe. His enthusiasm ran into political intransigence, however, and despite some success, a lack of budget meant most of his work became "just another branding exercise – it was greenwashing".
But after stints as mayor of family and the labour market, and children and young people, he ended up back at environment in 2010 with renewed determination and, crucially, a broader mandate from the city council. "I said: 'This time, we have to do it right,'" he recalls, "so we made detailed, concrete plans for every area, set the carbon target, and demanded the money and the manpower to make it a reality."
He brought on board more than 200 stakeholders, from businesses to academia to citizen representatives, and helped them develop 22 specific business plans and 65 separate projects. So far the plan appears on track: there has been a 15% reduction in heat consumption, 66% of all trips in the city are now by bike, on foot or public transport, and 51% of heat and power comes from renewables.
The onus placed on ordinary Copenhageners to walk and cycle more, pay higher taxes (especially on cars) and put up with the inconvenience of infrastructure construction has generally been met with understanding and good grace. And while some people remain critical of the fact that Copenhagen airport is not factored into the CO2 calculations – it lies beyond the city's boundaries – and grumble about precise definitions and formulae, dissent has been rare. MORE