By ignoring Indigenous rights and child protection, our parties have sentenced a vital national inquiry to a quiet death.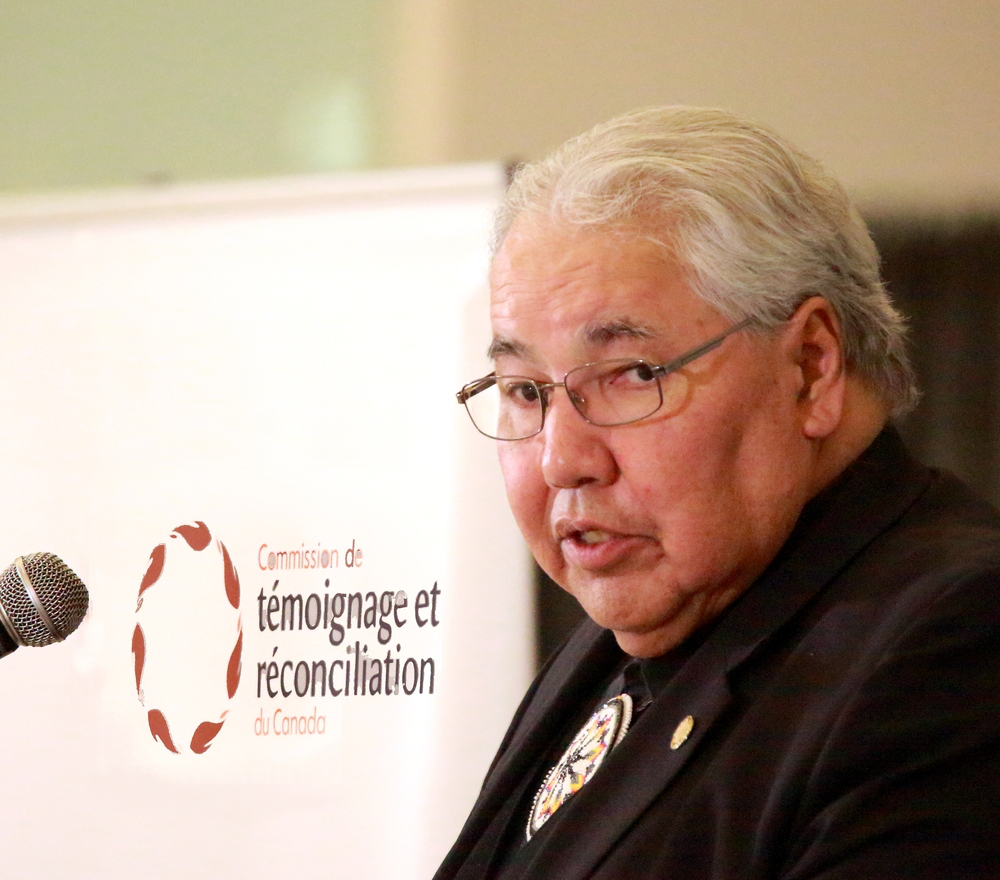 Murray Sinclair led the Truth and Reconciliation Commission, which in 2015 issued 94 'Calls to Action' for Canada. As of July 2019, only 10 had been implemented. Where are our federal leaders on reconciliation? Photo via Shutterstock.
The fact that reconciliation isn't a headline issue during this year's federal election campaign, despite government and business determination to build a new pipeline for Alberta bitumen, is just one indication that 'we're not there yet.'" — Senator Murray Sinclair
Remember when Prime Minister Justin Trudeau promised to implement all of the Truth and Reconciliation Commission's Calls to Action? That was memorable.
The CBC's Beyond 94 is the best collection and summary available of Canada's implementation of the TRC's Calls to Action. Beyond 94 shows that, as of July 2019, 26 of the 94 Calls to Action had not even been started, and only 10 were fully completed.
The Conservatives never promised to follow the TRC's Calls to Action, and it's clear they are utterly opposed to any reconciliation with Indigenous peoples. So a little balance is necessary in assessing the government's performance.
Let's look at four of the TRC's Calls to Action. Where are the political parties on these four items?
Implement UNDRIP
Calls to Action 24, 27, 28, 42, 43, 44, 48, 50, 57, 67, 69, 70, 86 and 92 commit Canada, churches, universities and Canadians to implement through domestic legislation and other measures the United Nations Declaration on the Rights of Indigenous Peoples.
In response, the House of Commons passed Bill C-262 in 2018 to require Canadian law to harmonize with UNDRIP. After it became apparent in 2019 that Conservative efforts to prevent a third and final reading in the Senate for C-262 would succeed, the Liberals announced they would once again campaign on a promise to legislate UNDRIP if re-elected in the fall.
But C-262 was a private member's bill by NDP MP Romeo Saganash, who is not running again in this year's election. Exactly why wasn't his bill a Liberal government bill?
The Greens and NDP have also promised legislation to implement UNDRIP. But let's unpack this a bit.
UNDRIP's most important provision is that Indigenous nations have a right to free, prior and informed consent about anything that will happen on their lands. Conservatives especially, and others, are petrified this might mean that Indigenous peoples can say no to pipelines and any other proposal their colonial governments set their minds to. In their view, the right to consent cannot possibly mean the right to say no. This is the fundamental reason that former prime minister Stephen Harper refused to allow Canada to endorse UNDRIP in 2007 at the United Nations.
After Bill C-262 died in the Senate, the Liberals said again that if re-elected they will implement UNDRIP. Fool me once, shame on you…
And what about the NDP? I find their position to be very confusing. Do they support the liquefied natural gas pipeline and gas plant in northern B.C. even though hereditary chiefs are opposed to it?
The NDP seems to be in favour of the Coastal GasLink LNG pipeline beginning in Dawson Creek and ending at a plant in Kitimat. This position seems to be their only chance of retaining retiring MP Nathan Cullen's seat in northern B.C. But how can the NDP tell the Liberals: "You. Bought. A. Pipeline." and then support a different pipeline (kinda sorta, nudge, nudge, wink, wink) even if hereditary chiefs are opposed? The same problem applies to the Site C dam and other projects that require major intrusions onto Indigenous lands. The UN Committee on the Elimination of Racial Discrimination told Canada that it is concerned "that the realization of the Site C dam without free, prior and informed consent, would permanently affect the land rights of affected Indigenous peoples in the Province of British Columbia. Accordingly, it would infringe Indigenous peoples' rights protected under the International Convention on the Elimination of All Forms of Racial Discrimination."
Again, for balance, let's recognize that the Conservatives do not believe that Indigenous peoples have any right whatsoever to free, prior, informed consent over developments on their land. All fossil fuel projects are good. Indigenous peoples lost their land rights because England said so. End of story. God save the Queen and all of the colonialism and white supremacy she gave to Canada.
Independent Senator Murray Sinclair told APTN: "That [UNDRIP] doesn't mean that we're vetoing [proposals]. It doesn't mean that First Nations people, or Indigenous people outside of Indian reserves, are vetoing anything. Just because they say you can't run a pipeline across my land doesn't mean you can't run it somewhere else."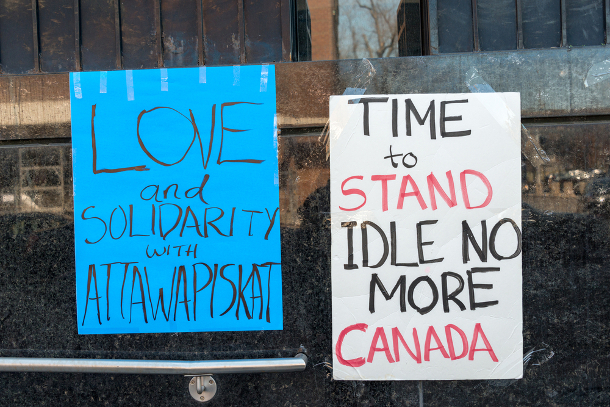 Child welfare
As you would expect, the TRC's first five Calls to Action are about child welfare. The Government of Canada, and therefore the people of Canada, have discriminated against Indigenous children and youth for well over a century. In 1977, the Canadian Human Rights Act was finally enacted, but it included the odious provision that no one was allowed to allege discrimination under the Indian Act. Finally, in 2008, section 67 was repealed. MORE