Swedish climate activist Greta Thunberg chastised world leaders Monday, Sep. 23, for failing younger generations by not taking sufficient steps to stop climate change.
"You have stolen my childhood and my dreams with your empty words," Thunberg said at the United Nations Climate Action Summit in New York. "You're failing us, but young people are starting to understand your betrayal. The eyes of all future generations are upon you. And if you choose to fail us, I say we will never forgive you," she added.
Thunberg traveled to the U.S. by sailboat last month so she could appear at the summit. She and other youth activists led international climate strikes on Friday in an attempt to garner awareness ahead of the UN's meeting of political and business leaders. SOURCE
RELATED: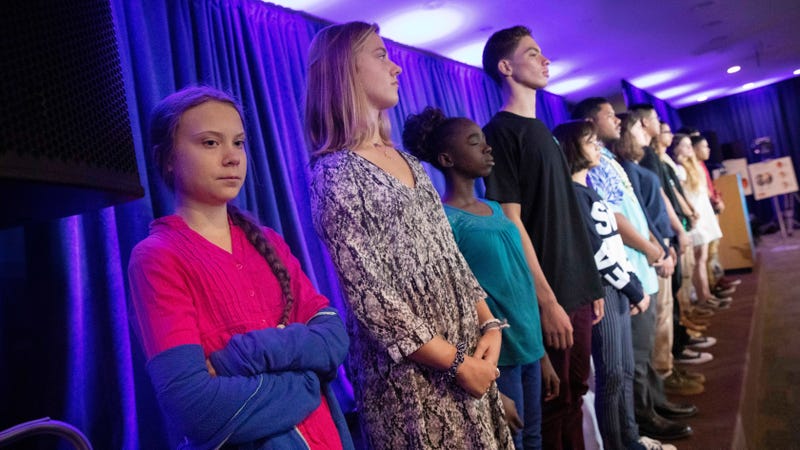 Photo: Mark Lennihan (AP)
UNITED NATIONS—On Monday, Greta Thunberg and 15 other young people filed a potentially world-changing lawsuit. On an abnormally steamy day in New York, when sweat built on the brows of the dark-suited diplomats funneling into the United Nations for a major climate summit, the group of teens cranked up the heat even further.
They announced that they're suing five of the world's major carbon polluters on the grounds that the countries are violating their rights as children. If the suit is successful, the United Nations would classify the climate crisis as a children's rights crisis. And more importantly, it would compel Argentina, Brazil, France, Germany, and Turkey—the five countries named in the suit—to work with other nations to forge binding emissions' reduction targets, a sharp change from current international efforts that have so far basically rearranged the deck chairs on the Titanic.