The number of confirmed or probable cases has reached 530.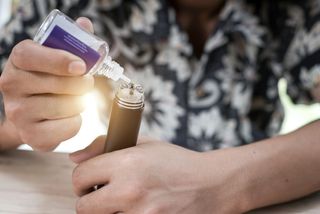 Image: © Getty Images)
People across the country continue to fall ill with mysterious lung diseases tied to vaping, and federal officials have revealed that they've opened a criminal investigation to search for the cause.
The number of confirmed or probable cases has reached 530 across 38 states and one territory, according to the latest update from the Centers for Disease Control and Prevention (CDC). That's up from 380 patients reported last week. A confirmed or probable case is one that meets the CDC's current case definition, or the specific criteria officials use to classify a vaping-related illness.
Seven people have reportedly died from these illnesses, which have struck men at a higher rate; about 75% of the patients are male. No one cause or set of causes has been linked to all of the cases, the CDC reported.
The investigation continues at both the state and federal level. Today, the Food and Drug Administration (FDA) announced that its Office of Criminal Investigations (OCI) has been working in parallel to investigate the supply chain and identify what is making people sick.
Related: 4 Myths About E-Cigarettes
"In cases like this, we typically turn to [the] OCI," said Mitch Zeller, the director of the Center for Tobacco Products at the FDA. "They have special investigative skills, and there are leads to track down." However, the OCI is not pursuing any prosecution for personal use of any of these substances, he said.
Previously, the FDA found that many of the products used by the patients contained a contaminant commonly found in THC vaping products called vitamin E acetate. "We are seeing vitamin E acetate in some samples, but our laboratory analysis continues to show a mix of results," he said. "There's no one compound ingredient constituent including vitamin E acetate that is showing up in all of the samples."
Many of the patients reported using numerous vaping products and substances, including a mix of nicotine and THC. MORE
RELATED:
There's an urgent need for vaping products to be given the same advertising and flavour restrictions as tobacco, a group of health organizations in Canada said in calling for immediate political action.