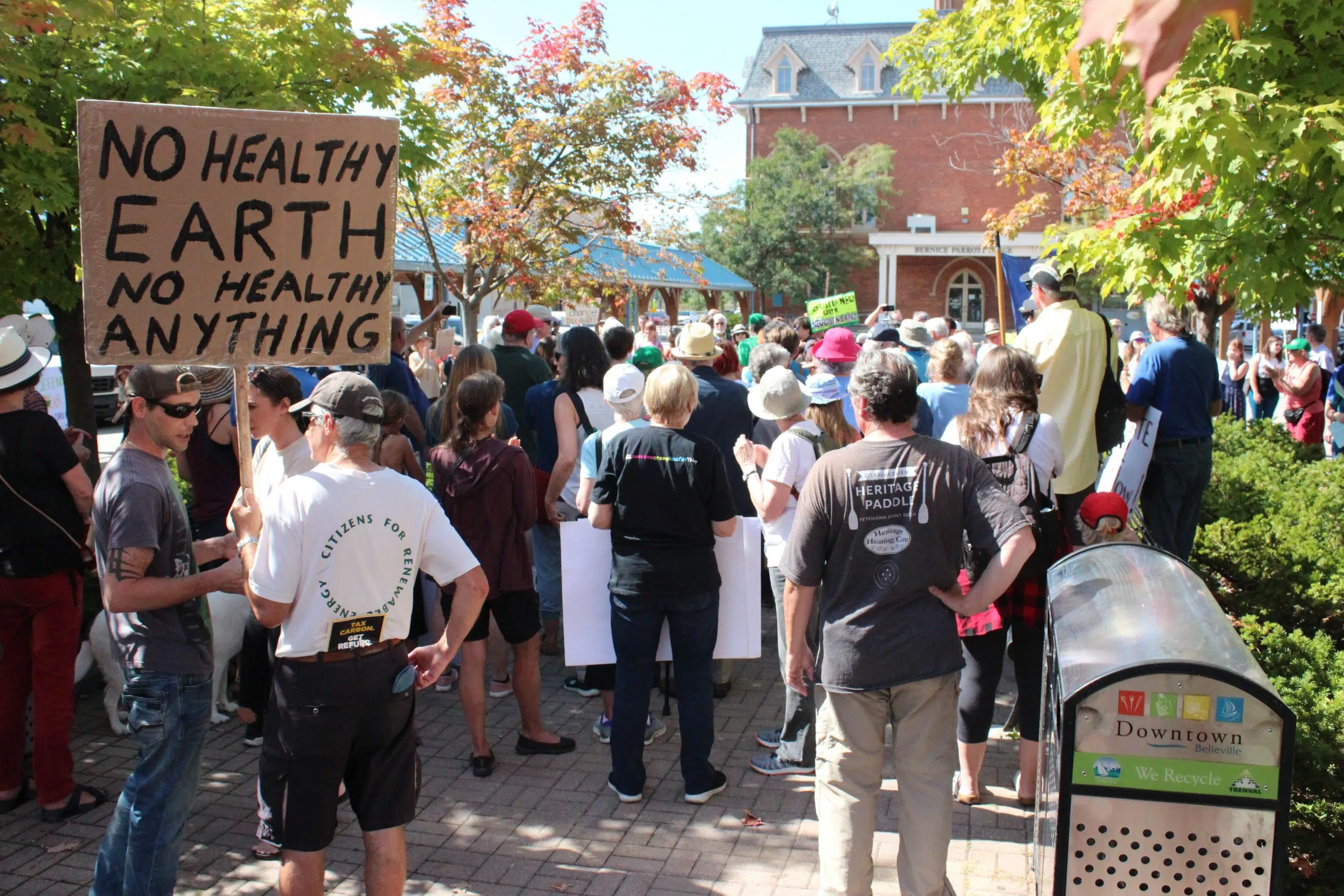 The climate change rally at Belleville City Hall on September 20, 2019 was well attended by people of all ages. (Photo: Amanda Smith/Quinte News)
The climate change/global warming issue is picking up steam worldwide and it's no different in the Quinte region.
Over 200 people, from kids to seniors, gathered outside city hall in Market Square demanding action on climate change immediately.
It was a short but boisterous and colourful rally and featured the heckling of a local politician and a fiery call for civil disobedience.
Rally organizer Kristen Parks, using a megaphone and standing tall on a bench, introduced the four guest speakers.
The Liberal MP for Hastings-Lennox and Addington riding Mike  Bossio was first up.
He passionately proclaimed that there was no more time to wait to change our ways.  "We've known for decades about global warming.  Now is the time to do something.  I promise you I'll do everything in my power to protect the planet for us and for future generations!"
Twice Bossio was interrupted by loud protests from some in the crowd.
Several people bellowed "That's what you said four years ago!  Why should we believe you now?"
Two minutes later as Bossio again stated it was time for action now others yelled out "then stop the pipelines!"
Fellow Liberal and Bay of Quinte riding MP Neil Ellis was present but did not speak.
Danny Celovsky, the candidate running for the Green Party in Bay of Quinte riding, climbed up on the bench next.
"The liberals promised action on climate change four years ago and all we've got are promises broken.  Enough already!  We don't need any more discussion!  We know what has to be done!"
Celovski said he wished the keys to power could be transferred to people between the ages of 18 and 35.  "They've got the most to lose.  We're not getting anywhere waiting on old rich white guys!"
The NDP's candidate in Bay of Quinte riding Stephanie Bell, sporting cycling gear after riding to the rally, told the crowd that people needed to work harder and immediately find even small ways to make a difference.
"The only way we can stop global warming is to work hard and work together!"
The final speaker and the showstopper was the son of the late Harry Leslie Smith, John Smith.
His father advocated for the working man and against right wing government policies for decades and died last November in Belleville in his mid-90s.
"I'm the son of a great man!  My dad was known as the oldest rebel!  He spent his life railing against the politics of austerity and the rise of fascism!"
"He understood that global warming was bringing people to the same kind of juncture as the rise of Hitler brought to people years ago."
"The choice we face is the same!  It's either darkness or light!  And just like the people did against Hitler we have to fight to change!  Politicians aren't doing anything!  We need peaceful civil disobedience!"
"We can't let the greed of the 1% line their pockets while they ruin your future and that of generations to come!"
"If we really move on this and get results, we could be known as the greatest generation by our grandchildren!"
Climate change rallies were held worldwide today.  Another local rally is scheduled for next Friday outside Quinte West city hall.
RELATED: