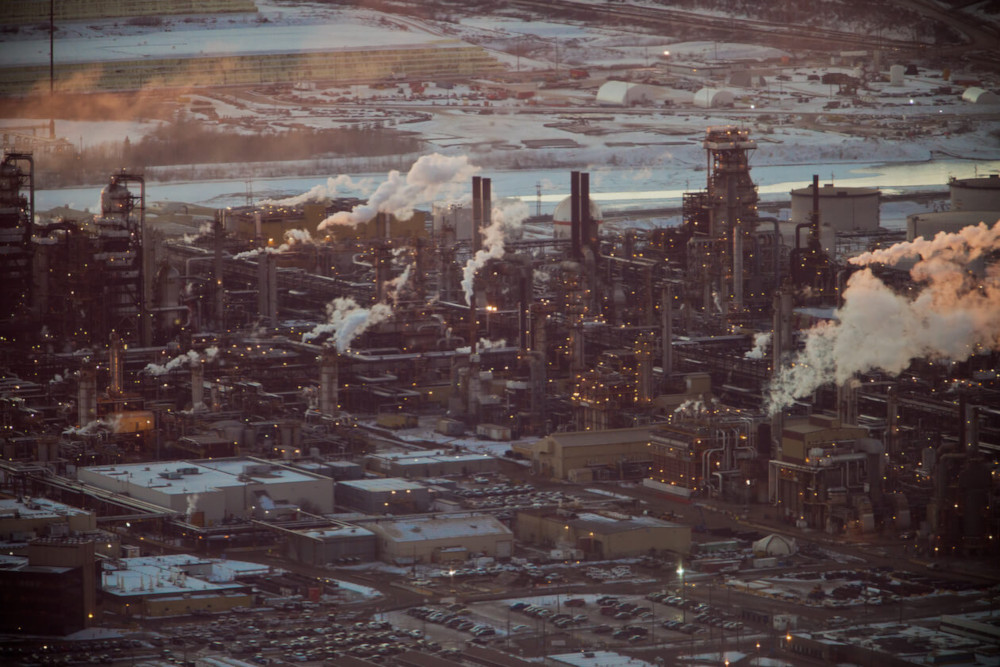 No party's platform explicitly names the oil industry as the main barrier to lowering emissions. 'Even saying that in Canada is impolite,' says Keith Stewart of Greenpeace Canada. Photo of Alberta's oil sands by Kris Krug, Creative Commons licensed.
What would a climate platform that actually rises to the emergency declared earlier this year by Canada look like? Perhaps something like the plans being put forward by Bernie Sanders, Elizabeth Warren, Kamala Harris and other frontrunners for the U.S. Democratic Party nomination.
It's not just massive spending commitments that potentially qualifies these plans as emergency-worthy — although the numbers are formidable. Sanders for example promises $16.3 trillion to help shift the U.S. economy away from fossil fuels and create 20 million jobs in the low-carbon economy that comes next.
Nor is it the mind-warping scale and ambition. Warren intends to eliminate carbon emissions from all new buildings by 2028, do the same for new vehicles by 2030 and completely shift America's power grid to zero-emissions energy by 2035.
The thing that truly sets these plans apart from anything proposed before by a serious contender for U.S. president is their willingness to take on the entrenched political power of the fossil fuel industry. During CNN's recent town hall on climate change, Harris, a former prosecutor, vowed to take legal action against oil and gas companies for their role in sowing doubt and uncertainty about climate science.
"This is what we did to the tobacco companies. We sued them, we took them to court," she said. Harris dedicates an entire pillar of her five-pillar climate plan to "hold accountable those responsible for environmental degradation, the misinformation campaign against climate science, and creating harm to the health and wellbeing of current and future generations."
Sanders similarly promises to go after "fossil fuel billionaires whose greed lies at the very heart of the climate crisis" while raising $3 trillion in funding for his plan by making companies "pay for their pollution, through litigation, fees, and taxes, and eliminating federal fossil fuel subsidies."
Warren would ban leases for fossil fuel extraction on public lands. At the CNN town hall she accused fossil fuel companies and other industrial giants of "making the big bucks off polluting our Earth."
Even former vice-president Joe Biden, not exactly the image of an anti-corporate radical, vows to "take action against fossil fuel companies."
Canada is not even close to having that conversation politically. It may be edging there. On Saturday, the NDP's Jagmeet Singh pledged to end fossil fuel subsidies.
"Our problem is upstream oil and gas is the single largest source of greenhouse gas emissions in the country and the fastest rising source, so until we're willing to tackle the oil industry, then we are not acting like this is an emergency or even a serious problem" — Keith Stewart, Greenpeace Canada
And last month the Greens' May, noting full-page ads in newspapers urging citizens vote in support of the oil sands, tweeted, "This is what we're up against," declaring, "If humanity doesn't transition off fossil fuels" by the 2023 election, "the earth will heat to unsafe levels and there will be climate catastrophe." MORE