For many climate skeptics, climate change has little to do with science. One of the most vocal strains of opposition to mainstream climate science appears to be rooted in fears of socialism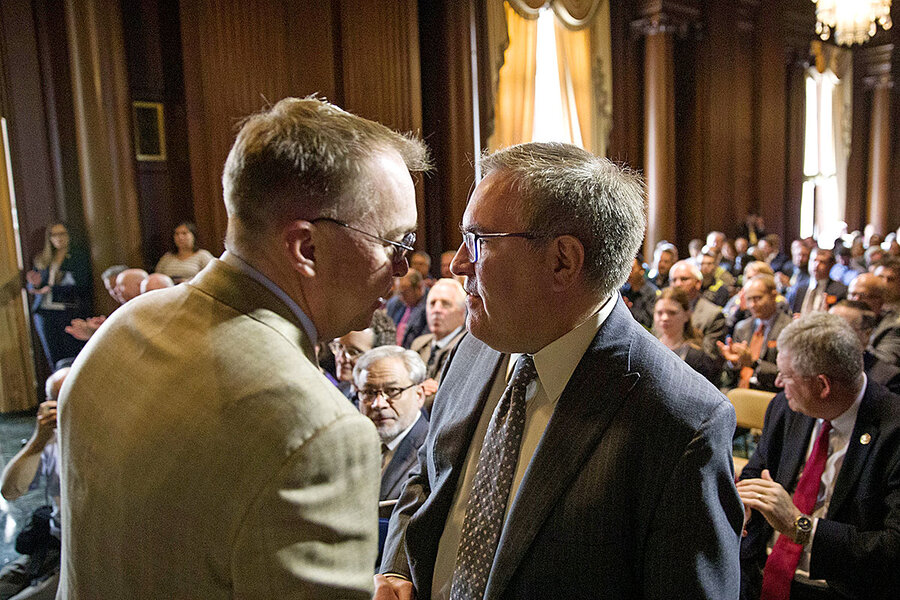 Acting White House Chief of Staff Mick Mulvaney (left) shakes hands with Environmental Protection Agency Administrator Andrew Wheeler after Mr. Wheeler signed the Affordalble Clean Energy Rule,  June 19, 2019, in Washington.
As public concern over global warming grows, more Republicans have begun to break ranks. After years of denying or deflecting mainstream climate science, GOP lawmakers are pivoting toward a belated acceptance of man-made warming and calling for bipartisan action to curb greenhouse gas emissions and boost investment in clean energy.
But one faction in the conservative movement continues to push against such calls with warnings that the agenda for climate action is part of a socialist plot to undermine the American way of life.
"It's a climate delusion. It's a climate collusion," James Taylor, a senior fellow at the Heartland Institute, told an audience of around 250 gathered at the Trump International Hotel in Washington for the institute's 13th International Conference on Climate Change in late July.
Other speakers argued that any warming of the Earth is part of a natural cycle and not the result of human activity, as record heat swept through Europe, toppling records in France, Belgium, Germany, and the Netherlands.
Chicago-based Heartland is part of a nesting group of right-wing organizations that for decades have sought to undermine public confidence in mainstream climate science. It publishes "climate realist" books and articles that find their way into Republican platforms and into the media, and has tried to push materials into schools.
That it calls itself a free-market think tank is telling: Climate denial in the U.S. is deeply rooted in an anti-government ideology that sees virtually all regulations, including curbs on carbon emissions, as leftist attacks on free enterprise. MORE
Is Canada a socialist country?
There are some big differences between social democracy and socialism, and they are often mixed up.
Socialism: The state supervises all of the economy while seeking to make living standards good for all citizens. In socialism there is no such thing as private property; everything is owned collectively, so people can have a say in their workplace. Workers often have it fairely well with good working hours and wages.
Social Democracy: A mix of socialism and capitalism. Private property exists and people can make a living out of it, at the expence of higher tax rates. This in order to redistrubute wealth to the average citizen. So things like healthcare appear. Under social democracy regulations are also often put in to make the workplaces for workers safer.
So where can we put Canada in this? Well Canada has social welfare and private property, so therefore it is a social democracy.
A rule of thumb when deciding whether a country is socialist or not is to see their stance at private property. SOURCE
---
— Andrew Scheer (@AndrewScheer) October 20, 2018

The only thing that has ever really reduced poverty is capitalism. Can't end poverty without educating young people of the benefits of free markets and fighting socialism. https://t.co/PUSeftHqGS