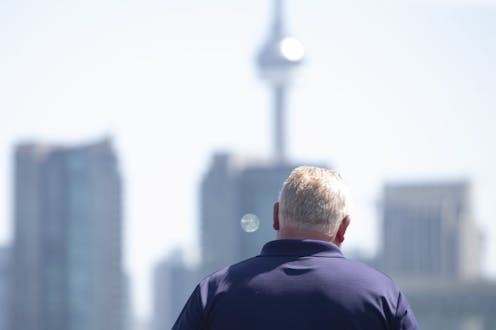 Ontario Premier Doug Ford faces the Toronto skyline as he attends a recent event. Ford's campaign slogan was 'for the people,' but his first year in office suggests he's not paying attention to their anger about his government's cuts. THE CANADIAN PRESS/Chris Young
Despite the chaos of the past few months, featuring a major cabinet shuffle that included the dumping of Finance Minister Vic Fedeli, the demise of the premier's controversial chief of staff Dean French and statements that Ford's administration is now "a government that listens," remarkably little has actually changed.
Several high-profile political appointments attributed to French have been scrapped and others are now under review. The question of how these appointments, which by statute were subject to cabinet approval, occurred in the first place remains unanswered.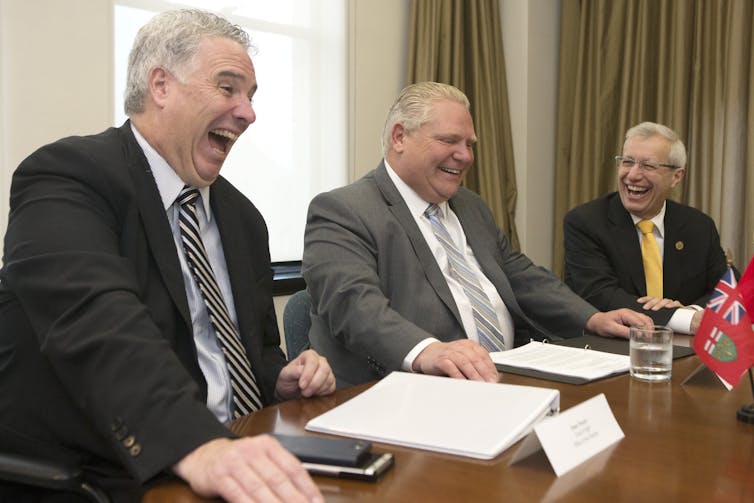 The government also backed down on current in-year funding cuts to municipalities, particularly for public health services, in the face of an outcry from local governments, health professionals and others. A reversal on the funding of services for children with autism seems to be underway as well, along with a retreat on cancelling OHIP funding for out-of-country dialysis treatments.
Beyond these specific steps however, the provisions of the province's April 2019 budget, sweeping omnibus bills pushed through the legislature and a wide array of administrative decisions remain very much intact and in motion.
Major reductions remain in place
The major reductions in provincial funding in health, education and social services, along with everything from tree-planting to small business start-up and training support, set in motion via Fedeli's budget remain in place.
Even deeper cuts are scheduled for future years — a point highlighted again by recent protests over the government's 30 per cent cut to the province's legal aid system.
The changes in Bill 108 to the province's planning legislation favouring developers remain very much on the books, as do more specific developer-friendly changes made to the province's planning policies.
These moves have included unprecedented interventions in neighbourhood-specific plans, like the city of Toronto's Midtown in Focus and TO Core initiatives, to systemically eliminate height limits on new developments and remove references to the nature of public spaces in these areas.
The dismantling of programs ranging from energy efficiency to the prevention of toxic pollution also continues apace.
The radical changes made to provincial and municipal institutions similarly persist. The Ontario Child Advocate and the Office of the Environmental Commissioner have been eliminated as independent entities. Toronto City Council stands at half of its pre-election size and the province's moves to take control of the city's subway system continue to advance.
No news on climate plan progress
Amid all of this, there has been one notable exception to the province's policy inertia. Last December, the Ford government introduced a high-profile "made in Ontario" environment and climate plan.
But since then, there's been little information about the plan's climate change provisions, including a carbon trust fund and some form of carbon pricing for industry. This even as parts of the Muskoka River watershed and the Ottawa River valley disappeared under unprecedented spring floods and storms, and the premier himself acknowledged that climate change partly caused the disasters. MORE
R

ELATED: