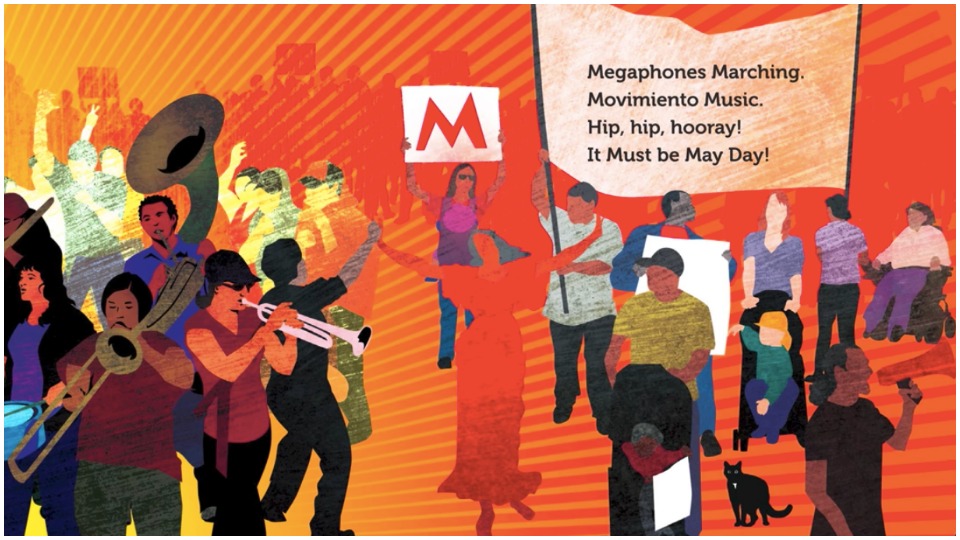 Imagine my surprise when I opened a 5.5-inch square children's board book at the home of my niece and her husband and my grandnieces Naomi, 2, and Valerie, 1 week old, and found myself (along with at least one cat) on virtually every page! Activist—Environmentalist—Grassroots—LGBTQ—Radical—Unionist—and all the way down the alphabet to Z for Zapatista. (I guess I don't personally qualify for that one, except in spirit.)
A is for Activist is a bestseller by Innosanto Nagara that is at least one person's answer to the age-old question, How to raise socially conscious children? Born and raised in Jakarta, Indonesia, Nagara moved to the United States in 1988. In the San Francisco Bay Area as a recent college graduate, he did graphic design work for social change organizations, then founded the Design Action Collective, a worker-owned cooperative design studio in Oakland.
Nagara wrote and illustrated A is for Activist for his young son, observing the lack of a "pro-activist, pro-social justice, pro-gay, pro-labor, pro-diversity, progressive ABC book." After he received supportive approval from friends and from a social media funding campaign, he published it privately and sold and mailed out over 3000 copies as a one-man operation. Then in 2013, he found a commercial publisher in Triangle Square Books, an imprint of Seven Stories Press.
Siete Cuentos, the Spanish-language side of Seven Stories, published an edition with musician Martha Gonzalez's translation, A de Activista, in 2014. There is now also an audio version recorded by radical guitarist and activist Tom Morello.
More than 125,000 copies of his book in print make Nagara a children's bestseller according to the New York Times. This books joins a trend of many recent children's books on social issues that parents are clearly seeking out to add to their children's collections of fantasy and fairy-tale themes.
"Full of wit, beauty, and fun," say Naomi Klein, author of The Shock Doctrine, and filmmaker Avi Lewis; "we can think of no better way to learn the alphabet." MORE