Major economies pledged a decade ago to phase out all aid for fossil fuels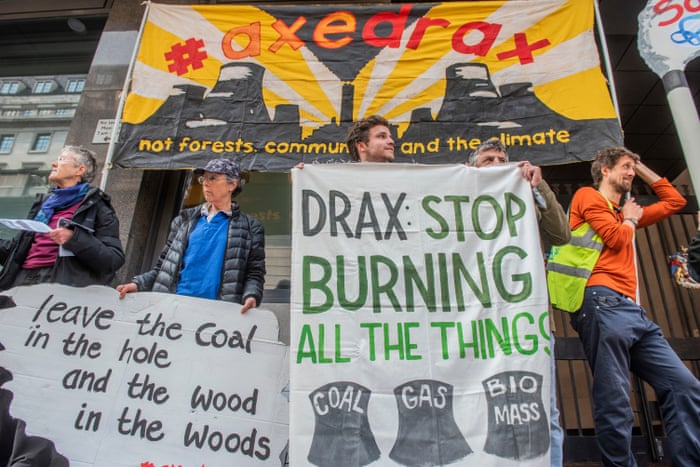 A protest against the Drax power station in North Yorkshire. Photograph: Guy Bell/Rex
G20 countries have almost tripled the subsidies they give to coal-fired power plants in recent years, despite the urgent need to cut the carbon emissions driving the climate crisis.
The bloc of major economies pledged a decade ago to phase out all fossil fuel subsidies.
The figures, published in a report by the Overseas Development Institute (ODI) and others, show that Japan is one of the biggest financial supporters of coal, despite the prime minister, Shinzo Abe, having said in September: "Climate change can be life-threatening to all generations … We must take more robust actions and reduce the use of fossil fuels." The annual G20 meeting begins in Japan on Friday.
China and India give the biggest subsidies to coal, with Japan third, followed by South Africa, South Korea, Indonesia and the US. While the UK frequently runs its own electricity grid without any coal power at all, a parliamentary report in June criticised the billions of pounds used to help to build fossil fuel power plants overseas.
Global emissions must fall by half in the next decade to avoid significantly worsening drought, floods, extreme heatwave and poverty for hundreds of millions of people. But emissions are still increasing, with coal-fired power the biggest single contributor to the rise in 2018.
"It has now been 10 years since the G20 committed to phasing out fossil fuel subsidies, yet astonishingly some governments are actually increasing the amount they give to coal power plants," said Ipek Gençsü, research fellow at ODI and lead author of the report.
"Momentum is growing around the world for governments to take urgent action to tackle the climate crisis and ending subsidies to coal would bring benefits to all [including reduced air pollution] and help set a level playing field for clean energy," she said.