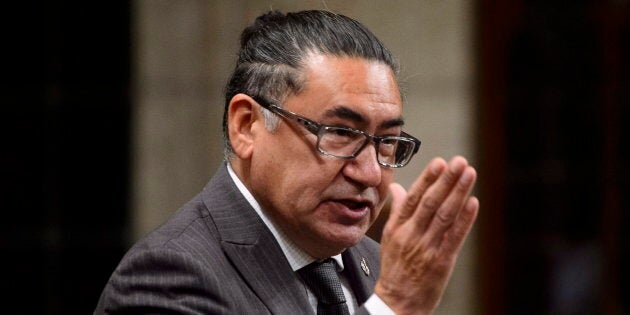 NDP MP Romeo Saganash stands during question period in the House of Commons on Sept. 25, 2018.
Final Statement on C262 Not Becoming Law
In 2011, I set myself the task of advancing Indigenous rights, as defined by knowledge keepers and elders, into Canadian politics. I introduced a bill, now known as C-262, in two separate parliaments, under different Prime Ministers, and worked with the hundreds of people elected to represent Canadians. Over the past two parliamentary mandates I have been given, I have worked diligently to promote human rights and Indigenous values not just in bill C- 262 but in every piece of legislation that passed my desk.
After travelling to speak about the UN Declaration on the Rights of Indigenous Peoples with people in community centres, auditoriums, on picnic tables in baseball parks and in art galleries, people from coast to coast to coast have become champions of justice. Millions of people have had a conversation about Indigenous rights, what they mean, and how they will bring us forward into a beautiful new future.
I am devastated and regret that my bill, that so many people have worked so hard to promote and educate on, will not become law.  Nonetheless, I have been inspired and reassured by the broad representation from civil society in the support for this bill: churches, labour unions, human rights organizations, environmental organizations, Indigenous leadership and grassroots that have made it possible to get to the recognition and respect that we see today.
I do know that we have made tremendous advances in human rights by getting this far in the legislative process. It is rare for non-governmental bills to pass through the House of Commons and to get as far in the Senate as it did. This is an indication of how important bill C-262 is, of how much has changed, and of the general willingness of everyone to move towards a new future together. We cannot go back to how things were before. New understandings of human rights and what they mean and who they include means that society is can only get better because of the work that we have done.
The struggle for human rights is a long one; it takes us away from our families and loved ones; we work too many hours, we sacrifice our health and spirit. Yet our ancestors took a path before me, one that is for dignity, justice and a good life.  Others have not only followed the path but imagined new possibilities. I am grateful for the sacrifices they also have made in the belief that Indigenous law, rights, and ways of being will be one day be restored to these territories. I am honoured to follow in their work, and I dedicate any accomplishments I have made to my family.
I want to thank the countless people who have worked so hard with their whole body, heart, mind and spirit because they believe in the values listed in the Declaration. I remain strongly convinced of the potential for the UN Declaration to be the framework for reconciliation; as a set of standards created by Indigenous peoples for Indigenous peoples, and as a reminder to nation-states like Canada, that we are still here, and we not only deserve but we demand the rights that have been denied us for so long.
There are and always have been obvious flaws in a governing system that is designed to maintain a status quo and deny rights to people who power rejects. The process of bringing C262 along the legislative path has highlighted this for me and I believe there are many parts in this struggle and many people lead; its not enough to create legislation that holds the colonial governments accountable to International human rights standards and to Indigenous ways of being; it will take structural and institutional change in order to see justice on stolen lands. Let us rise with more energy. Let us stand with a greater determination. On behalf of the millions who are building resistance and beauty in our communities: our spirit is not broken.
RELATED: