"The new approach could even pave the way for 100 percent self-sufficiency in power, heat, and water."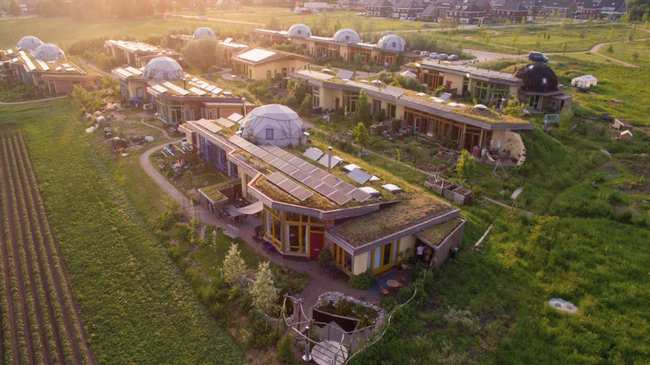 Image: Metabolic
A new report funded by the Dutch government finds that microgrid technologies could make a local "techno-economy" 90 percent self-sufficient, through the decentralised sharing of energy at the local level between multiple households.
The new approach could even pave the way for "100 percent self-sufficiency in power, heat, and water, and 50 percent self-sufficiency in food production", according to the report's author, energy systems engineer Florijn de Graaf.
If optimized properly, microgrids could play a pivotal role in supporting efforts to transition to renewable energy systems and meet climate targets, finds the report published by Netherlands-based energy systems company Metabolic. The report was funded by the Dutch Ministry of Economic Affairs and the Netherlands Enterprise Agency.
Under the Paris Agreement, the Dutch government has pledged to drop its carbon dioxide emissions by 80-95 percent by 2050.
Reaching that goal will require an extraordinary level of effort by any standard. But the use of microgrids—decentralised energy grids that intelligently balance the local supply and demand of distributed clean energy resources—could avoid the need for massive spending on infrastructure upgrades.
FROM DUMB TO SMART
According to the new report, titled New Strategies For Smart Integrated Decentralised Energy Systems, by 2050 almost half of all EU households will produce renewable energy. Of these, more than a third will participate in a local energy community. In this context, the microgrid opportunity could be a game changer.
The report describes microgrids as the end result the combination of several technological trends, namely, rooftop solar, electric vehicles, heat pumps and batteries for storage. The key is that these technologies are decentralized—they can easily be owned by consumers and cooperatives in local systems.
"As time progresses, costs go down and climate awareness goes up, more and more people will start owning one or more of these technologies," de Graaf told me.
MORE