A wildfire burns on a logging road in central British Columbia in August 2018. THE CANADIAN PRESS/Darryl Dyck
"The fires were never a threat to us. It was the state that was the threat."
In two short sentences Chief Joe Alphonse, Tribal Chair of the Tsilhqot'in National Government, conveyed to a House of Commons committee a central insight of disaster studies. The environment does not create disasters — people do.
In 2017, British Columbia experienced the first of two successive years of record-breaking wildfires. On July 7, following 130 lightning strikes, fires (amplified by climate change) tore through the B.C. interior, consumed 760,000 hectares of Tsilhqot'in territory and engulfed three of six Tsilhqot'in communities.
The provincial wildfire response that followed revealed how people — through policies, practices and laws — leave some communities more vulnerable to disasters. It was a striking example of law's role in disaster, which I mapped in relation to the 2016 Fort McMurray wildfire. After the 2017 wildfires, I worked with the Tsilhqot'in Nation to document its communities' experiences with wildfire.
Unequal vulnerability
Decades of research has documented that social factors such as race, gender, ability and poverty contribute to the harms suffered during disasters. Laws and policies that continually marginalize people and communities during ordinary times make these same people vulnerable to disaster.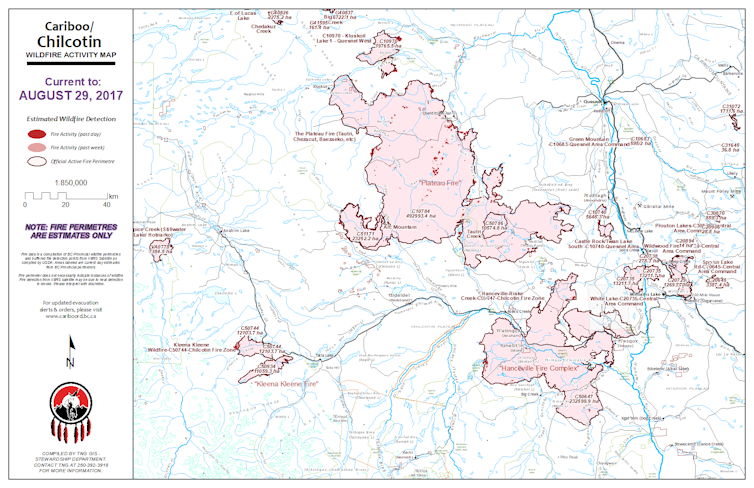 This theory was tested the summer of 2017 when fires raged through Tsilhqot'in territory. The wildfires revealed the inadequacy of existing laws and the ongoing legacy of colonial policies as key culprits in the vulnerability of the Tsilhqot'in during the wildfire response. Confusion and conflict over legal jurisdiction were central and enduring themes of the wildfire response.
Read more: How will Canada manage its wildfires in the future?
---
Jurisdiction is fundamental to self-determining Indigenous peoples. It is also fundamental to understanding how multiple levels of government and agencies involved in emergency management work together to keep people safe during a crisis. Jurisdiction answers the question: Who gets to decide? MORE