He says Canadians can have it both ways. The facts say otherwise.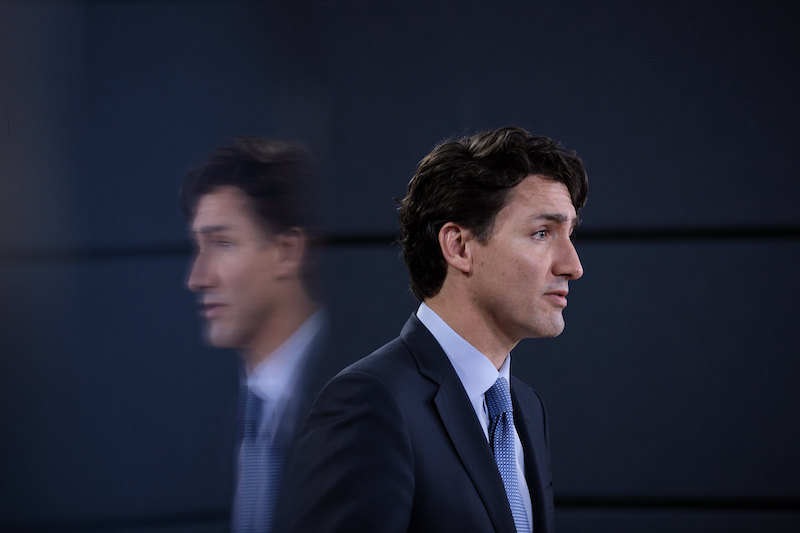 What Trudeau's Liberals have done cannot be reconciled. Photo via Justin Trudeau Flickr.
As the planet slowly stews in its increasingly sultry juices, sled dogs are walking on water, but Justin Trudeau no longer is.
Polar bears are starving, the Arctic permafrost is melting, and glaciers are retreating faster than the PM on electoral reform and government transparency. And oh yes, as of yesterday, Canada is expanding the Trans Mountain Pipeline. That is called renovating the outhouse when indoor plumbing is the answer.
I picture Sheriff Jason Kenney's posse, spurs ajingle and six guns flapping on their chaps, saddling up and galloping off to their war room at my imagery.
They do that now when they hear any "radical environmentalist" rearing his pesky head as opposed to those petrol Pollyannas of the energy sector who, as everyone knows, are full of philanthropy, mercenary science, and boffo marketing. The guys who make profits and tailings ponds.
But even those with their heads buried in bitumen have to resolve the latest development in what's left of their social conscience. The Liberals and the rest of parliament have declared that Canada is experiencing a climate emergency. (There was one notable dissenter — those permanent campers in Jurassic Park on all matters touching the environment, the Conservative Party of Canada. Emergency, what emergency?)
Yet on the same day the "emergency" is declared by everybody but the fossil heads, the government says yes to the Trans Mountain Pipeline expansion. As Shakespeare observed in Macbeth "Such welcome and unwelcome things at once. 'Tis hard to reconcile."
Eight questions for Justin Trudeau
So a few blunt questions for the PM, who continues to publicly peddle the dubious line that Canadians can have it both ways, while privately linking arms with the CEOs.
1. Since Canada is already on track to miss its emission targets set in Paris by 79 megatonnes (only Gambia and Morocco are on target), how do you justify greenlighting a project that will add 20 per cent to carbon emissions from the Alberta tar sands?
2. You once said that only communities could issue the social license for mega projects like this. So what do you say to the Squamish Nation, and the cities of Vancouver and Burnaby who have not granted that social license?
3. If expanding Trans Mountain is such an economic winner, why did Kinder Morgan happily unload this project on the Canadian people? Where were the rugged captains of private industry when this "jewel" went up for sale? MORE