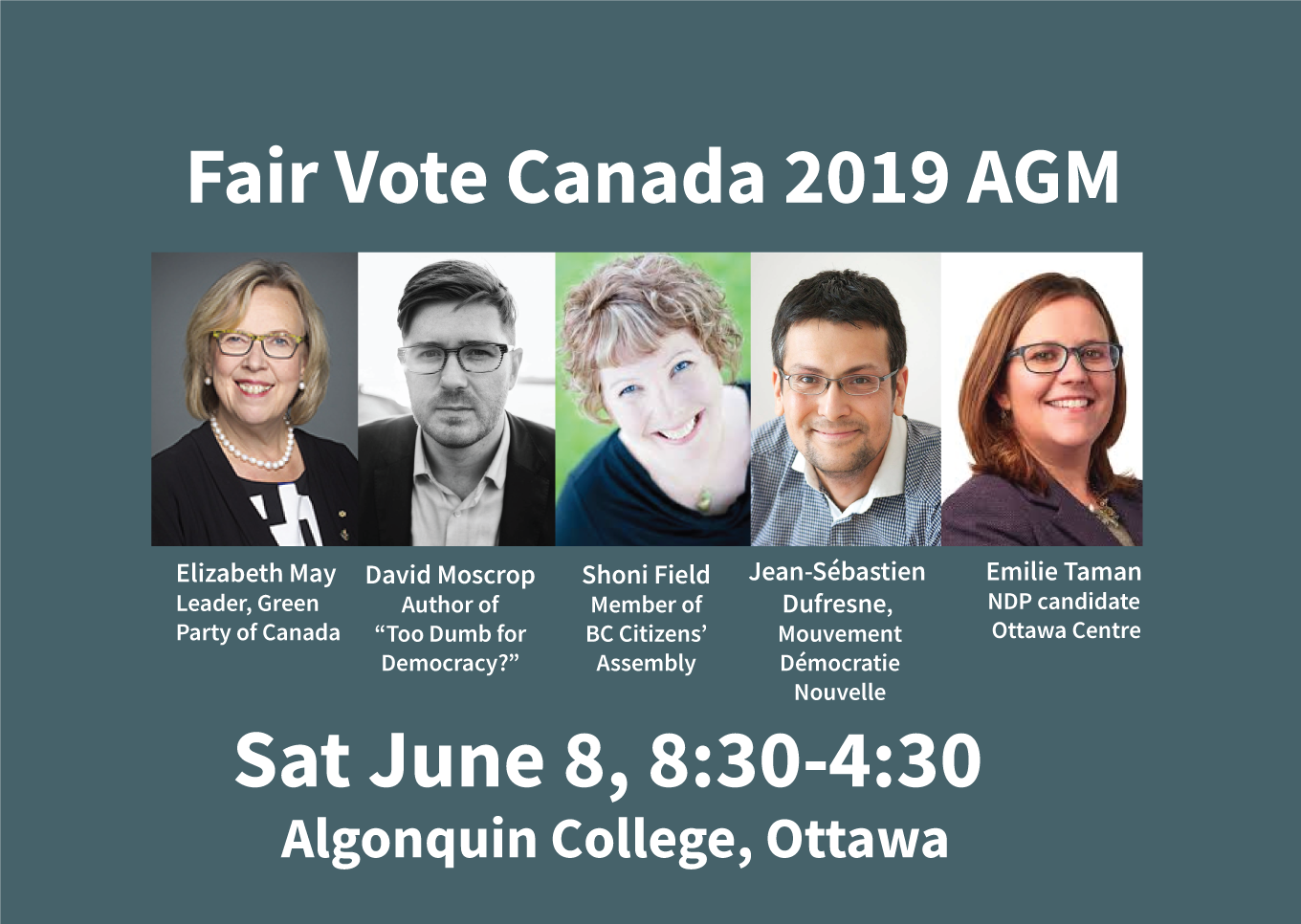 Panels Include:
1) BC and PEI
We will look back on the BC and PEI referendums and hear from key organizers in those two campaigns.
2) Citizens' Assemblies on Electoral Reform
David Moscrop – Electoral reform advocate and author of a just-released book Too Dumb for Democracy?
Shoni Field – Past President of Fair Vote Canada and member of the BC Citizens' Assembly on Electoral Reform
3) Planning our federal campaign
Learn about the positions the Greens, the NDP and the BQ on PR going into the 2019 election and Fair Vote Canada's plans for getting PR on the front burner!
Elizabeth May – Leader of the Green Party joining us by video
Emile Taman – NDP candidate for Ottawa Centre
4) Prospects and opportunities in Quebec and Ontario
Jean-Sébastien Dufresne – ED, Mouvement démocratie nouvelle
Réal Lavergne – President, Fair Vote Canada
Fair Vote Canada is backed by evidence and powered by people! The AGM is our opportunity to look back at the past year, share our insights and ideas with each other, and plan the best way to seize the opportunities ahead for proportional representation.
Proceedings will be live-streamed on our Facebook page for those who can't make it in person.
With the 2019 federal election approaching, Fair Vote Canada's Annual General Meeting takes place once again this year in Ottawa, Ontario. We will be back at Algonquin College on Saturday, June 8, 2019.
In addition to the federal scene, we will be analyzing progress and potential in Quebec, Ontario and Prince Edward Island, the most promising jurisdictions over the coming year.
Admission is by donation. All those who register before Wednesday June 7 are guaranteed lunch (we will do our best to accommodate everyone); we appreciate your support and generosity in helping us stage this event. A $25 per person donation is suggested but we don't wish for anyone to stay away due to the cost. Please give what you can. A higher amount will be gratefully accepted and will help to more fully defray our costs.
Donations will also be accepted at the door. If you receive a PayPal error message when processing your payment, simply click the word "Show" at the bottom of the page to see Other Payment Options and select "Pay at the Door" to complete your registration.