"This is a great opportunity for progressives across Europe to unite around a doable, radical but at the same time moderate agenda. It can be for progressives what immigration and racism is to the rightists." — Yanis Varoufakis  
Former Greek finance minister says quest for transformation could help counter far right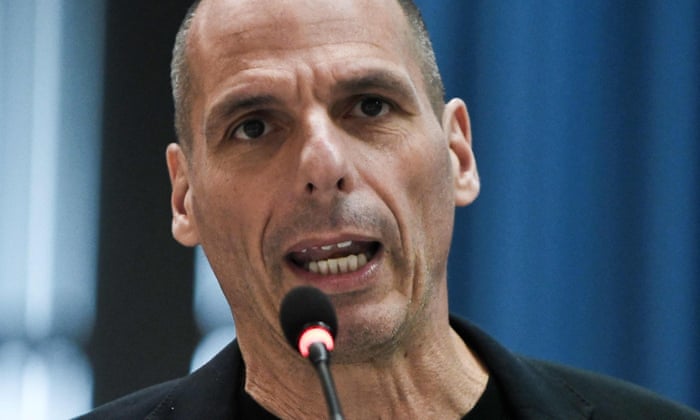 Yanis Varoufakis: 'I think this a very optimistic moment.' Photograph: Sakis Mitrolidis/AFP/Getty Images
A radical Green New Deal has the potential to unite progressives across Europe in the same way as nationalist and right-wing movements are mobilising around immigration and xenophobia, according to the former Greek finance minister Yanis Varoufakis.
Varoufakis, a co-founder of the Democracy in Europe Movement (DiEM25), which is standing candidates in Germany and Greece in Thursday's European elections, told the Guardian a radical green agenda could act as the "glue and cement" for an alliance of leftists, greens and liberals.
"I think this a very optimistic moment," said Varoufakis, who is standing for DiEM25 in Germany. "The ultra right, the xenophobic right have a rallying call, they have glue and cement holding them together and that is racism, xenophobia, migration and narratives of gloom about Islamists coming to Europe and taking over."
Progressives, however, have lacked a similar "rallying cry", according to Varoufakis, who has become one of the leading figures on the European left in the last decade.
He argued that a Green New Deal, financed by green investment bonds issued by the European Investment Bank (EIB), could transform the economy, creating sustainable, secure jobs, and help tackle the unfolding environmental crisis while uniting young and old, socialists, Greens and liberals across the continent. MORE