"Voters may suspect the Shiny Pony is phoney. But if they think that makes Andy dandy, they have forgotten something. Answered prayers are often a special brand of nightmare. Could it be time for change with risk? Could it be time to elect a government committed to saving the planet, rather than four bucks on a fill-up of gas?"
Don't let negative partisanship trick you into backing Harper lite.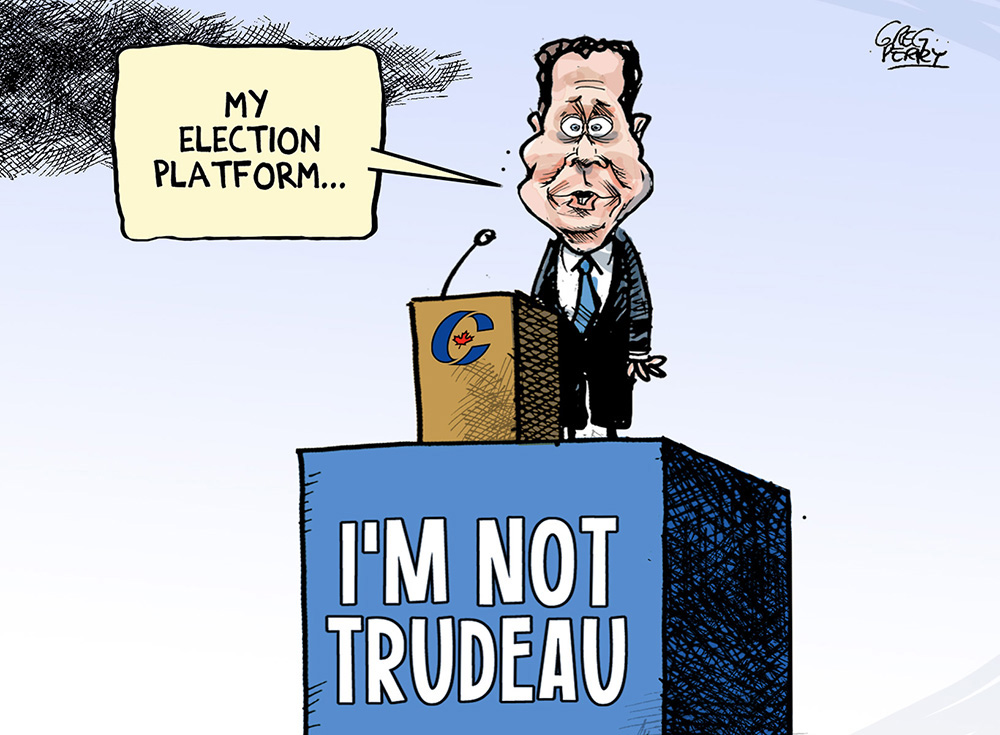 Cartoon by Greg Perry.
Nothing the Conservatives have done so far has been remotely as effective in that cause [to elect a Conservative federal government this October] as Trudeau's remarkable, and mystifying, blundering.
Take the environment. Everyone wants to claim this baby, but no one wants to raise it. Trudeau began as the champion of the blazing issue of our times. But these days, the prime minister looks less like the climate guy from Paris than he does a Texas oil man with gushers on his mind. When he gives the green light to the Trans Mountain pipeline in June, that impression will only deepen.
Apart from his much-ballyhooed carbon tax, there is not much to celebrate on this file, despite all the right words and excellent photo-ops. As Canada stumbles towards missing the modest emission targets of Paris, Stephen Harper's targets, this PM acts more like Jason Kenney than David Suzuki.
 As disappointing as Trudeau has been to many voters, the traditional alternative, the official Opposition, is far, far worse.
Trudeau overpays for a pipeline carrying dirty oil through pristine rivers and forests in British Columbia;
He exempts certain tarsands projects from new environmental assessment rules in a crude trade-off with Alberta;
He considers loosening restrictions on the pollution of major rivers with toxic effluent from tarsands tailing ponds;
He allows the unregulated use of seismic blasting to explore for oil and gas on Canada's east coast, right whales be damned;
And he has nothing to say about a pulp and paper mill building a 10-kilometre pipe to carry and dump hastily treated toxic effluent into prime fishing grounds in the Northumberland Strait. MORE