"On the 50th anniversary of the publication of Our Bodies, Ourselves, the struggle for women's bodily autonomy, for political representation and economic power, for freedom and equality is still being waged. But it's no longer a struggle. Now it's a war. "
The abortion issue is being used to strip women of their rights. It's time to fight back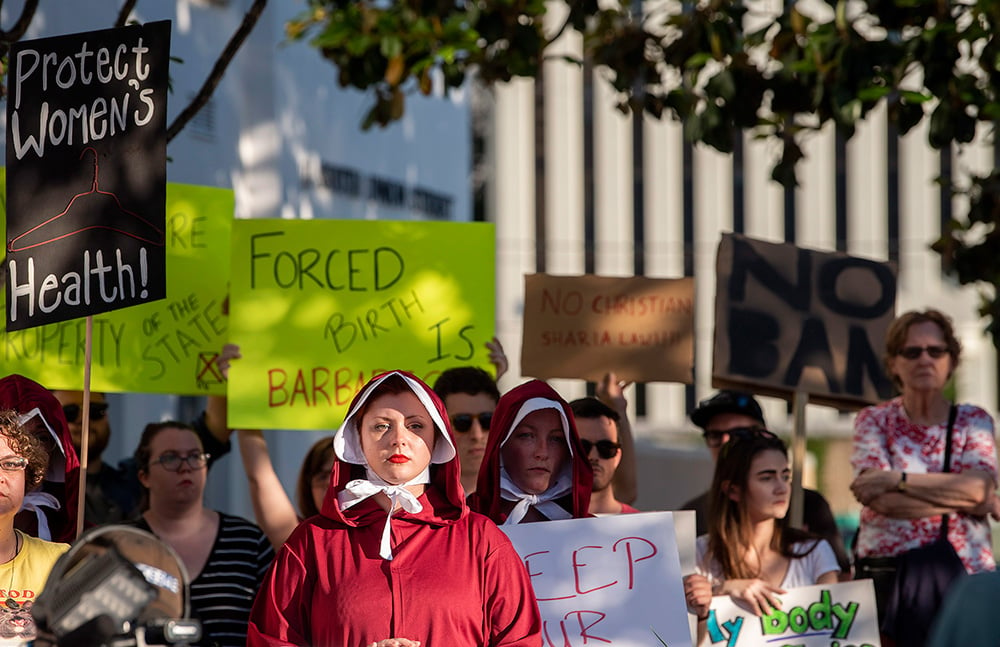 It's hard to imagine that even Margaret Atwood's fertile imagination could have conceived the current situation in the US.Photo by Mickey Welsh, Associated Press.
Georgia's "heartbeat law" bans abortion as soon as a fetal heartbeat can be detected. That can be as early as six weeks, before many women even realize they are pregnant. In truth, heartbeat laws effectively ban safe and legal abortion.
---

"6 weeks pregnant" = 2 weeks late on your period.
Most of the men writing these bills don't know the first thing about a woman's body outside of the things they want from it. It's relatively common for a woman to have a late period + not be pregnant. So this is a backdoor ban. https://t.co/xWd9GAj51b  — Alexandria Ocasio-Cortez (@AOC) May 8, 2019
---
Ocasio-Cortez was not alone in noting that many of the politicians pushing this kind of legislation didn't have the faintest clue about how women's bodies actually work.
It's tempting to watch from the safety of Canada and think "There goes America, being insane again." But reproductive rights may not be quite as safe here as one might hope.
Liberal MLAs Rich Coleman and Laurie Throness addressed the crowd at a pro-life rally outside the B.C. legislature last week. "The fact that somebody wants to do things with the right to life at the end of life, or the right to life at the beginning of life, is totally, totally wrong for me," Coleman said. Throness said "life is sacred from conception until natural death."
They aren't alone in voicing support for the anti-choice forces.
"It starts with limits on access to information and education, and then spirals into some fictional faith-based version of how the world supposedly works."
In Ontario, Progressive Conservative MPP Sam Oosterhoff pledged that he wanted abortion to become "unthinkable in our lifetime." Ontario Premier Doug Ford, asked if he agreed with Oosterhoff, ducked the question. MORE
RELATED:
---

This is a photo of speakers  and Conservative politicians
at an anti-abortion rally.
Notice something? It's almost all men.
The anti-abortion movement is nothing more than an attempt by old Conservative men to control women's bodies pic.twitter.com/G7tCn14o3t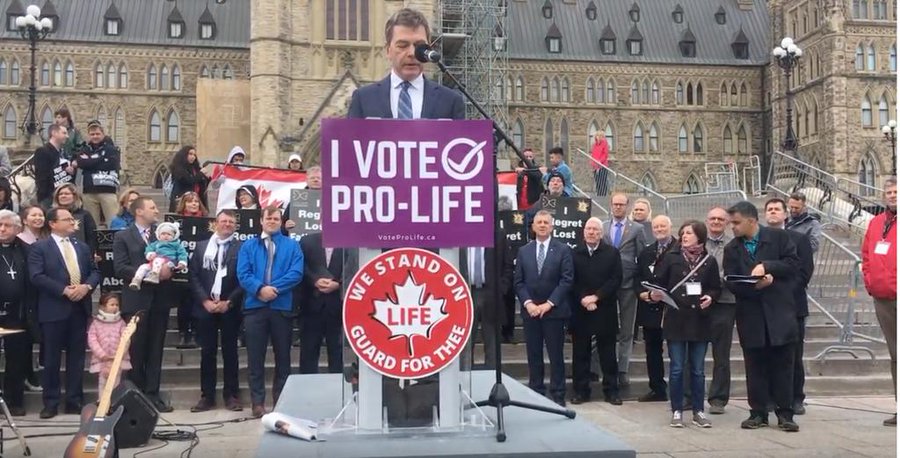 — North99 (@wearenorth99) May 15, 2019
---

Experts say B.C. Liberal MLAs' right to life speech was deeply disturbing. "It's completely inappropriate for an elected representative to publicly oppose the Charter rights of women." https://t.co/pWDs1qPtuZ
— Katrina Chen (@KatrinaCBurnaby) May 14, 2019
---