And as a timely reminder of why a CRIMINAL law of ecocide is so crucial – click on the above image to see a report just out that shows banks have actually been increasing their support of aggressive fossil fuel expansion since the Paris agreement.  No amount of climate negotiating is able to deal with this.  Only when ecocidal activity becomes criminal will the money have to go elsewhere.
–Mission Life Force
World's top banks have poured $1.9 trillion into fossil fuel financing since the Paris Agreement was adopted, with financing on the rise each year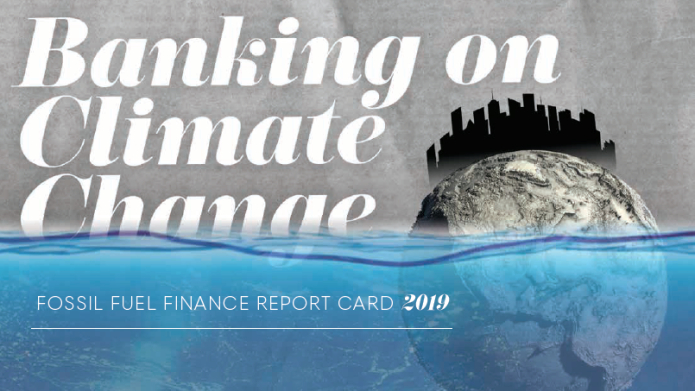 The tenth edition of the Fossil Fuel Finance Report Card. Photo: BankTrack et al
A report released today by BankTrack, Rainforest Action Network, Indigenous Environmental Network, Oil Change International, Sierra Club and Honor the Earth, and endorsed by 163 organisations around the world, reveals that 33 global banks have provided $1.9 trillion to fossil fuel companies since the adoption of the Paris climate accord at the end of 2015. The amount of financing has risen in each of the past two years. [1]
Of this $1.9 trillion total, $600 billion went to 100 companies that are most aggressively expanding fossil fuels. Alarmingly, these findings reveal that the business practices of the world's major banks continue to be aligned with climate disaster and stand in sharp contrast to the recent IPCC special report on global warming. That report, Global Warming of 1.5 °C, clearly outlined the critical need for a rapid phase-out of fossil fuels and estimates that the world's clean energy investment needs are $2.4 trillion per year up to 2035.
Banking on Climate Change 2019 is the tenth annual fossil fuel report card and the first ever analysis of funding from the world's major private banks for the fossil fuel sector as a whole.
Banking on Climate Change 2019 reveals that the four biggest global bankers of fossil fuels are all U.S. banks – JPMorgan Chase, Wells Fargo, Citi and Bank of America. Barclays of England, Mitsubishi UFJ Financial Group (MUFG) of Japan and RBC of Canada are also massive funders in this sector.  Notably, JPMorgan Chase is by far the worst banker of fossil fuels and fossil fuel expansion – and therefore the world's worst banker of climate change. Since the Paris Agreement, JPMorgan Chase has provided $196 billion in finance for fossil fuels, 10% of all fossil fuel finance from the 33 major global banks. MORE
RELATED:
Big beautiful news from the UK, where the United Reformed Church–already divested from coal and tarsands–has voted to sell off all its fossil fuel holdings! Thanks to @OperationNoah and all else who worked so hard!https://t.co/hjs5PRqobM
— Bill McKibben (@billmckibben) May 15, 2019