Party's positions are thin, unrealistic and riddled with embarrassing errors.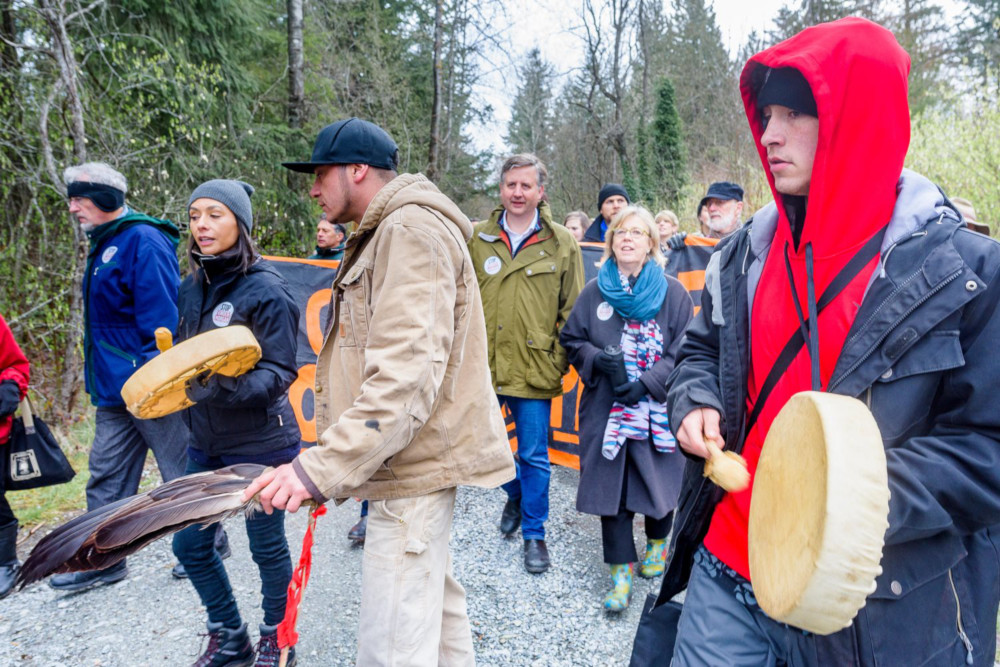 Green Party leader MP Elizabeth May joined Will George of the Tsleil-Waututh First Nation and others protesting the Kinder Morgan Pipeline last year in Burnaby. But her party's stance on Indigenous issues badly needs work. Photo: Michael Wheatley/Alamy Live News
The Green Party by-election victory in Nanaimo on May 6th could be called a breakthrough — it is only their second federal electoral victory, and coming days after the near election of a Green provincial government in Prince Edward Island, it shows that increasingly many Canadians are seeing the Greens as a valid alternative. Among those looking seriously at the Green Party for the first time are Indigenous people — who after a litany of disappointments by the Trudeau government, are looking for a new home for their votes.
Rumours are circulating that former Liberal justice minister Jody Wilson-Raybould is considering a run with the Greens in the next election. Before being expelled from the Liberal caucus, Wilson-Raybould was at the heart of that party's reconciliation agenda. The legitimacy she and other Indigenous candidates brought, together with Liberal promises to Indigenous people, and outreach efforts resulted in the largest Native vote in Canadian history.
Wilson-Raybould's appearance at Green Party leader Elizabeth May's wedding on April 22nd may be a sign that she is getting ready to do for May in 2019 what she did for Trudeau in 2015.
However, it will take much more than the mere presence of Wilson-Raybould to make the Green Party an appealing place for Indigenous voters, because while some Native people are considering voting Green, it's clear from their platform that the Green Party has given next to no consideration to Native people or our issues.
Among those policies is a promise aboriginal to "set a date for the Repeal of the Indian Act, ideally in less than 10 years, to allow all nations and interested parties to prepare."
No one likes the Indian Act, but asking First Nations governments to prepare policy and bureaucracy to do the job of every single part of it in less than 10 years is asking for the impossible. Such an imposition would, in an instant, require 600-plus bands with populations ranging from a few dozen to a few thousand to create inheritance policy, land codes, taxation regimes, membership codes, human rights regulation, conflict resolution policies, election codes, public housing authorities, education authorities, child welfare authorities, fish and game regulation, agricultural regulation, and on and on and on. MORE