"A poll last week found 35 per cent of Canadians "are planning to vote for a party because they dislike another party even more and want to prevent that party from winning." That was true for 40 per cent of supporters for both the Liberals and Conservatives. All because Trudeau broke a firm promise to have proportional representation in place for the fall election."
Elizabeth May and her party believe voters are ready to 'vote for real change' in the upcoming federal election in October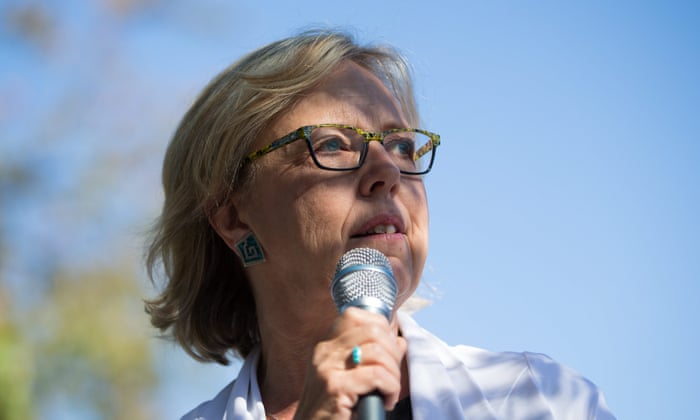 Elizabeth May, the leader of Canada's Green party. Photograph: Darryl Dyck/AP
Elections have rarely been kind to Canada's long-suffering Green party. Though many voters view it as the environmental conscience of the country, they often abandon it when it comes time to cast their ballot and the party's leader Elizabeth May has sometimes been forced to fight for a place in debates between party leaders.
But as Canada confronts the effects of climate change, May and her party firmly believe the upcoming federal election in October will be different.
The Green's growing strength was highlighted this week, when Paul Manly won a closely-watched regional election in British Columbia, taking the Nainamo seat from the leftwing New Democratic party, and forcing Justin Trudeau's Liberal party into fourth place. He will become the federal Green party's second MP.
May hailed Monday's the victory as "the dawn of a new era in federal politics" which proved voters were "brave to vote for real change".
The recent successes come amid growing recognition of the impacts of climate change in Canada. A recent government report has found that the country is warming at a rate twice that of the global average.
Carbon taxes and environment have moved to the centre of the country's national discourse, and May is well-positioned to capitalize on growing frustration among voters, said Lori Turnbull, a professor of political science at Dalhousie University.
"May can run circles around the [leaders] on the carbon tax. She's really an excellent, speaker and debater and she's got more experienced in any of them in terms of running the federal party and being on the campaign trail," said Turnbull. MORE
RELATED:
Once an 'orange diaper baby,' Manly begins life as a Green MP