"Climate change is not so much an emergency as a festering injustice. Your ancestors did not end slavery by declaring an emergency and dreaming up artificial boundaries on "tolerable" slave numbers. They called it out for what it was: a spectacularly profitable industry, the basis of much prosperity at the time, founded on a fundamental injustice. It's time to do the same on climate change."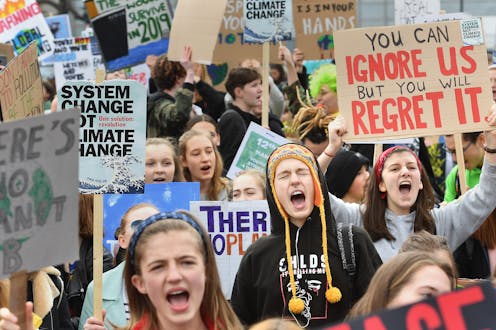 …The problem is, as soon as scientists speak out against environmental slogans, our words are seized upon by a dwindling band of the usual suspects to dismiss the entire issue. So if I were addressing teenagers on strike, or young people involved in Extinction Rebellion and other groups, or indeed anyone who genuinely wants to understand what is going on, here's what I'd say.
My biggest concern is with the much-touted line that "the Intergovernmental Panel on Climate Change (IPCC) says we have 12 years" before triggering an irreversible slide into climate chaos. Slogan writers are vague on whether they mean climate chaos will happen after 12 years, or if we have 12 years to avert it. But both are misleading.
As the relevant lead author of the IPCC Special Report on Global Warming of 1.5°C, I spent several days last October, literally under a spotlight, explaining to delegates of the world's governments what we could, and could not, say about how close we are to that level of warming.
Using the World Meteorological Organisation's definition of global average surface temperature, and the late 19th century to represent its pre-industrial level (yes, all these definitions matter), we just passed 1°C and are warming at more than 0.2°C per decade, which would take us to 1.5°C around 2040.
That said, these are only best estimates. We might already be at 1.2°C, and warming at 0.25°C per decade – well within the range of uncertainty. That would indeed get us to 1.5°C by 2030: 12 years from 2018. But an additional quarter of a degree of warming, more-or-less what has happened since the 1990s, is not going to feel like Armageddon to the vast majority of today's striking teenagers (the striving taxpayers of 2030). And what will they think then?
What about the other interpretation of the IPCC's 12 years: that we have 12 years to act? What our report said was, in scenarios with a one-in-two to two-in-three chance of keeping global warming below 1.5°C, emissions are reduced to around half their present level by 2030. That doesn't mean we have 12 years to act: it means we have to act now, and even if we do, success is not guaranteed. MORE