"This is our last chance to do anything about the global climate and ecological emergency. Our last chance to save the world as we know it. Now or never, we need to be radical. We need to rise up. And we need to rebel. This is a book of truth and action." Excerpt from This Is Not a Drill
Climate activists blockaded the London Stock Exchange by gluing themselves across the entrances.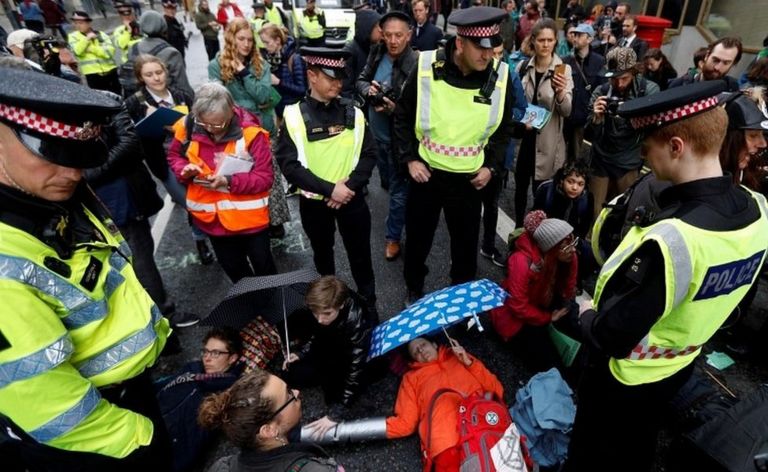 Police said Fleet Street would remain closed for about three hours after it was blocked by activists. REUTERS
Protesters from Extinction Rebellion attached themselves to walls and to each other at the financial centre in the City of London.
A group also climbed on to a Docklands Light Railway (DLR) train at Canary Wharf and held up banners.
Protesters at both locations were later removed, but police warned of disruption throughout the day.
Elsewhere in the City, temporary road blocks have been set up by activists at Bank and Southwark Bridge.
Nine protesters also glued themselves together in a chain outside the Treasury, preventing people from the entering the Westminster building. MORE
RELATED:
Extinction Rebellion rushes activists' handbook This Is Not a Drill into print
Former archbishop of Canterbury Rowan Williams and Green Party MP Caroline Lucas are among the contributors to a forthcoming handbook about how to become an Extinction Rebellion activist, which will feature instructions on everything from organising roadblocks to dealing with arrest.