Extinction Rebellion is a non-violent  group protesting government inaction at a time of climate breakdown and ecological collapse. The group also wants to change international law to make "ecocide" a punishable crime.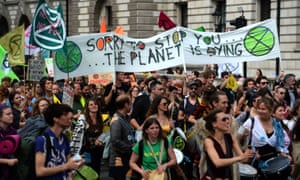 Extinction Rebellion protesters arrive in Parliament Square on Tuesday. Photograph: Kirsty O'Connor/PA
Climate change protesters have descended on London for the past five days, demanding the government take action on global warming.
London police have arrested hundreds of protesters with the group Extinction Rebellion.
Critics say Extinction Rebellion is more about promoting "Marxism" than actually tackling global warming.
Climate change protesters have spent the last five days causing havoc in London, blocking traffic, threatening to disrupt Heathrow airport and littering en masse.
Extinction Rebellion, the group behind the mass protests, is demanding the U.K. government implement laws to bring greenhouse gas emissions to zero by 2025. This is the same group that recently staged a nude protest in Parliament.
"In a time of climate breakdown and ecological collapse, telling the truth is a rebellious act," the group tweeted Friday as protesters swarmed central London for another day of demonstrations. Earlier in the week, protesters glued themselves to the London subway.
Extinction Rebellion says it's intentionally breaking the law to not only gain attention, but also use subsequent court hearings to "tell the courts that without an urgent and radical change of course" climate change will "likely to be catastrophic," the group's website reads.
The group also wants to change international law to make "ecocide" a punishable crime. The group defines ecocide as "human activities that cause extensive damage to, destruction of, or loss of ecosystems of a given territory." MORE
RELATED: