This tribute to Polly Higgins by George Monbiot appeared in The Guardian, Mar 28.  On Apr 21 came the news that Polly had passed away. Monbiot wrote
""If this is my time to go," she told me, "my legal team will continue undeterred. But there are millions who care so much and feel so powerless about the future, and I would love to see them begin to understand the power of this one, simple law to protect the Earth – to realise it's possible, even straightforward. I wish I could live to see a million Earth Protectors standing for it – because I believe they will."
Businesses should be liable for the harm they do. Polly Higgins has launched a push to make ecocide an international crime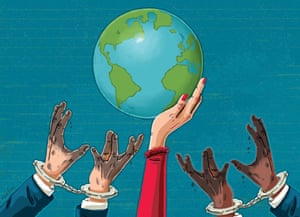 Illustration by Eva Bee
Why do we wait until someone has passed away before we honour them? I believe we should overcome our embarrassment, and say it while they are with us. In this spirit, I want to tell you about the world-changing work of Polly Higgins.
She is a barrister who has devoted her life to creating an international crime of ecocide. This means serious damage to, or destruction of, the natural world and the Earth's systems. It would make the people who commission it – such as chief executives and government ministers – criminally liable for the harm they do to others, while creating a legal duty of care for life on Earth. 
I believe it would change everything. It would radically shift the balance of power, forcing anyone contemplating large-scale vandalism to ask themselves: "Will I end up in the international criminal court for this?" It could make the difference between a habitable and an uninhabitable planet.
From Ecocide to Ecolibrium: The Great Turning | Polly Higgins | TEDxUppsalaUniversity