Extinction Rebellion is an international protest group that uses non-violent civil disobedience to campaign on environmental issues. Demonstration have included blocking bridges to traffic in London and a semi-naked protest inside the House of Commons. The group says climate breakdown threatens all life on Earth, and so it is rebelling against politicians who 'have failed us', to provoke radical change that will stave off a climate emergency.
Unlike many other Canadian cities, Prince Edward County Council has yet to announce a climate emergency.
Extinction Rebellion activists continue action after more than 100 arrested overnight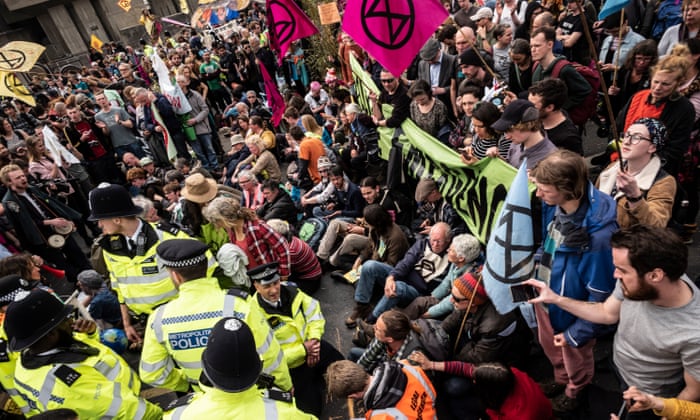 Police officers start arresting Extinction Rebellion activists occupying Waterloo Bridge. Photograph: Sean Smith/The Guardian
Police have moved in again to begin arresting climate activists blocking Waterloo Bridge in central London.
Hundreds of people had occupied the crossing and three other sites in the capital since Monday morning.
Over Monday night, officers tried to clear the bridge, arresting 113 people, but the blockade remained in place. Just after 12.30pm on Tuesday, officers moved in again and began to carry people away.
The protests are part of a global campaign organised by the British climate group Extinction Rebellion, with demonstrations planned in 80 cities across 33 countries in the coming days.
The group has called on the UK government to reduce carbon emissions to zero by 2025 and establish a citizens' assembly to devise an emergency plan of action to tackle climate breakdown and biodiversity loss. MORE
RELATED: