In the absence of legal remedies against ecocide, the Extinction Rebellion advocates non-violent civil disobedience to gain media and political recognition [see below]. On the other hand, writing  a letter to local media or to our political 'leaders' doesn't seem such a high risk activity now, wouldn't you agree? 
Protest group Extinction Rebellion's fight against climate change is making headlines – most recently when they stripped almost naked in the House of Commons. The Victoria Derbyshire programme went behind the scenes with the group, which urges people to break the law to save the world.
"Troublemakers change the world," says Roger Hallam, one the group's founders. "When they're starting to call you troublemakers, you're starting to get some traction, right?"
Controversially, the group is trying to get as many people arrested as possible.
Since its launch last year, members have shut bridges, poured buckets of fake blood outside Downing Street, blockaded the BBC and stripped semi-naked in Parliament.
Critics say they cause unnecessary disruption and waste police time when forces are already overstretched.
Mr Hallam is unrepentant: "If you're a trade union, everyone knows that when you first go on strike everyone's going, 'Troublemakers.' But then you have to state your case, which is, 'If you don't get this sorted, we're going to die.'"
We filmed members as they blocked traffic in central London – playing cat and mouse with the police – and as young members glued themselves to the entrance of a fracking conference.
Civil disobedience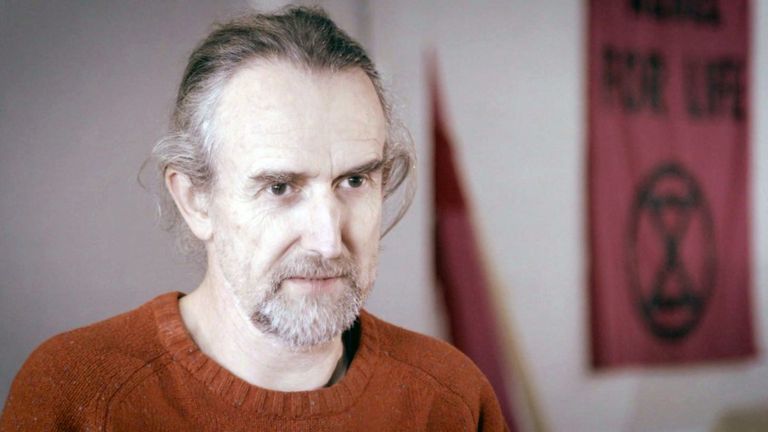 Mr Hallam has spent years researching how to achieve social change through radical movements.
"Mass participation and civil disobedience maximise the chance of social change in this context," he explains.
"It doesn't mean it's guaranteed, it just means it's massively more likely to be effective than sending emails and doing conventional campaigning. And it's significantly more effective than using violence." MORE
RELATED: