Four related mysteries fuel flames of an ever more ruinous scandal.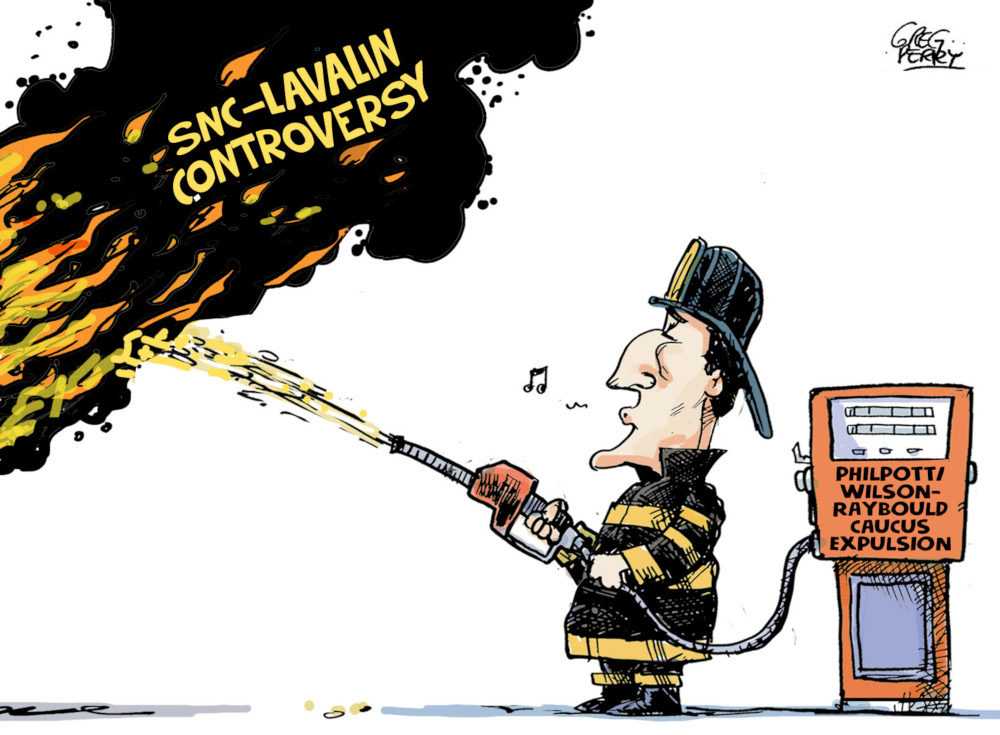 Cartoon by Greg Perry.
Justin Trudeau has hit the panic button.
Unicorn sightings during Question Period are down to zero.
After weeks of being drubbed by the opposition over LavScam, the prime minister is now threatening a lawsuit against Andrew Scheer, his chief detractor in this misbegotten affair. What's next? Suing Andrew Coyne?
They say drowning people will clutch at anything. But a threatened lawsuit against Scheer? The Michelin Tire Man is more menacing than the leader of the Official Opposition. This guy edits his tweets when he gets a paper airplane thrown his way.
And didn't this PM promise a new, open way of doing politics? Dumping MPs who won't bend to his will, effectively firing a cabinet minister who didn't take the hint on a big file, shutting down the justice committee investigation of this travesty, and now waving a libel action around does not exactly conjure up sunny ways.
Having already claimed two star female federal cabinet ministers, the clerk of the privy council, and the PM's principal secretary, it appears the next victim of LavScam could be Justin Trudeau himself. And all because one way or another, the PM seems determined to spare SNC-Lavalin a criminal conviction for its alleged bribery and corruption in Libya. Why?
RELATED:
For the gambit to pay off, the Trudeau team had to exceed previous expectations of ineptitude. Never let it be said that they were not down to the challenge