Outdoor air has been regulated for decades, but emissions from daily domestic activities may be more dangerous than anyone imagined.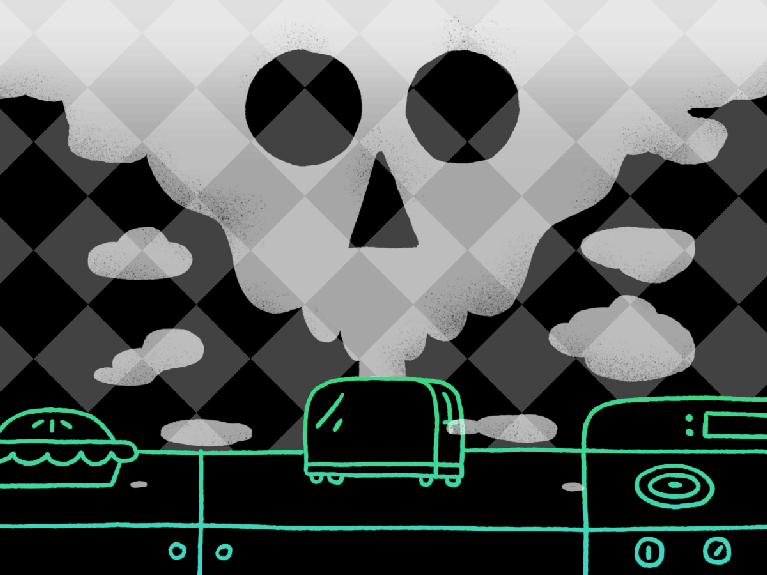 We spend most of our lives inside, where air quality has received little scrutiny. Illustration by Daniel Savage
ood magazines typically celebrate Thanksgiving in mid-July, bronzing turkeys and crimping piecrust four months in advance. By that time last year, Marina Vance, an environmental engineer at the University of Colorado Boulder, had already prepared two full Thanksgiving dinners for more than a dozen people. Vance studies air quality, and, last June, she was one of two scientists in charge of homechem, a four-week orgy of cooking, cleaning, and emissions measurement, which brought sixty scientists and four and a half million dollars' worth of high-tech instrumentation to a ranch house on the engineering campus of the University of Texas at Austin. The two Thanksgiving dinners were the climax of the project and represented what Vance called a "worst-case scenario." She suspected that the Pilgrims' harvest celebration, as it is observed in twenty-first-century America, qualified as an airborne toxic event.
The morning of the second simulated Thanksgiving began simply enough, with the researchers making themselves breakfast. Vance and three helpers arrived at the house at half past eight. The kitchen was open plan and modest, with peeling laminate surfaces and flimsy cabinets, but its countertops were crammed with instruments for monitoring airborne particles: a condensation-nucleus counter, a differential-mobility analyzer, and so on. Wires threaded all around the room, and stainless-steel hoses led to four trailers outside, which contained equipment too big to fit in the kitchen.
Andrew Abeleira, a postdoctoral researcher, cracked eight eggs on the edge of the countertop and whisked them; Vance chopped tomatoes while heating oil to fry sausage patties. The banality of the activities was belied by the precision with which the team carried them out: a rigid protocol dictated when each gas burner could be lit, how hot the frying pan should be, and at what setting to toast the bread. The aim was to turn Thanksgiving into a reproducible, scientifically valid experiment.
Unlike outdoor air, the air inside our homes is largely unregulated and has been all but ignored by researchers. We know barely the first thing about the atmospheres in which we spend the vast majority of our time. homechem—House Observations of Microbial and Environmental Chemistry—was the world's first large-scale collaborative investigation into the chemistry of indoor air. Thoroughly dissecting the data accumulated will take a couple of years, at least, and, even when the findings are published, no one will be able to state their public-health implications with certainty; homechem was designed to explore what the chemistry of indoor air is, not what it's doing to us. But the experiment's early results are just now emerging, and they seem to show that the combined emissions of humans and their daily activities—cooking, cleaning, metabolizing—are more interesting, and potentially more lethal, than anyone had imagined. MORE
RELATED:
Multi-decade New Zealand study finds childhood blood lead levels predict serious psychological outcomes.