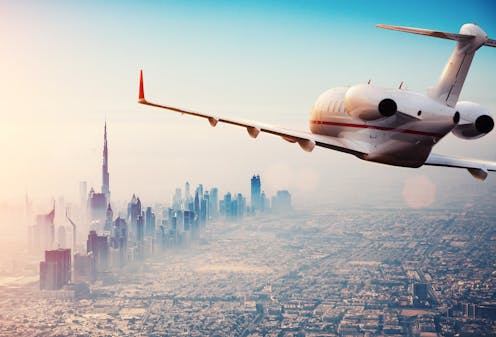 jag_cz / shutterstock
American congresswoman Alexandria Ocasio-Cortez recently shook up environmental politics by releasing a broad outline of a Green New Deal– a plan to make the US a carbon-neutral economy in the next ten years, while reducing both poverty and inequality. Lauded by many as a radical and necessary step, president Trump responded in typical style:
I think it is very important for the Democrats to press forward with their Green New Deal. It would be great for the so-called "Carbon Footprint" to permanently eliminate all Planes, Cars, Cows, Oil, Gas & the Military – even if no other country would do the same. Brilliant!
The Green New Deal doesn't directly call for people to consume less meat. But the argument that solving climate change means changing our diets is widespread, and Ocasio-Cortez herself has
made the link
.
From personal carbon footprint calculators to articles outlining how many Earths we need to sustain the consumption of the average citizen of the UK, Europe or the US, consumption is identified as the problem. Reduce consumption, runs the argument, and you solve climate change. But is "our" consumption really the problem? Who is "we" anyway?
Globally uneven consumption
This point has been made before, but bears repeating. Most of the world's population produces very little in the way of either carbon emissions or broader environmental impacts. We can go further here by also looking at imported carbon emissions – that is, the emissions that come from the production of goods and services in countries such as China that are then consumed in the wealthy countries of the global north. If we include imported emissions, the UK's overall emissions have only marginally decreased since 1990. MORE